CDA & Mehran FC wins Islamabad Super Football League 2019 openers
Mehran Football Club and CDA won their opening matches against their respective opponents on the first day of Islamabad Super Football League 2019 which kick started here at Akbar Football ground in Islamabad.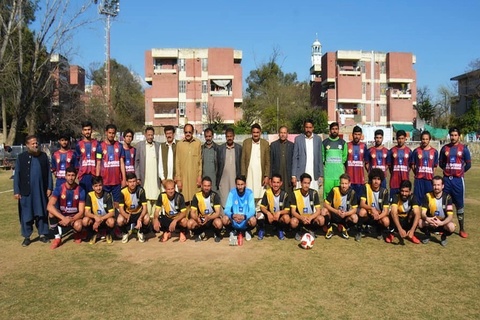 Islamabad Super Football League 2019
Akbar Football Ground
Pakistan Football Federation (PFF) and Islamabad Football Association (IFA) has organized this mega football league that has been named as "Islamabad Super Football League" into its very first edition. This mega football action is featuring a total of eight (8) top football club's teams from the capital and the boys from their respective clubs and teams are seen battling against each other for the ultimate title gain of the league from the very first day into this league.
Participating teams includes: Rover Football Club, Mehran Football Club, Huma Football Club, CDA Football Club, Ravi Football Club, Evergreen Football Club, Akbar Football Club and Islamabad Academy. This league will have matches played only on weekends and two matches per day will be contested.
The opening match of the day was played between Mehran Football Club and Rover Football Club in which boys from both the teams were seen racing on the ground with top speeds but it was Mehran FC's Ruh Ullah who opened the scoring tally by landing a perfect kick right into the opponent net just the 7th minute into the game. However, Rover FC players became more alive after the first goal from the opposite side and as a result of their efforts, they equalized the score line by 1-1 at the 28th minute. As the match progressed it seemed to finish in a draw but Ruh Ullah yet again scored for Mehran FC in the 44th minute and made it a 2-1 victory over their opponents.
While in the second match, CDA team won over Islamabad Academy by a convincing 2-0 score line. Both team players were good with their performances throughout the match but CDA players came out to be the strongest at the end finishing the match in their favor.
President Islamabad Football Association (IFA), Chaudhry Muhammad Saleem graced the tournament open, along with PSO to President Pakistan Football Federation (PFF), Syed Sharafat Hussain Bukhari, who is also General Secretary IFA, Vice Presidents, Muhammad Zaman and Syed Muqbil Shah, former Information Secretary PFF, Rana Tanveer Ahmed.