Faisalabad tops Group A with 18 points in Quaid-E-Azam Trophy Grade-II Cricket Tournament 2018/19
Faisalabad topped Group A with 18 points while Karachi Blues stands first in Group B with 40 points in Quaid-E-Azam Trophy Grade-II Cricket Tournament 2018/19 which is being staged at different venues with the country.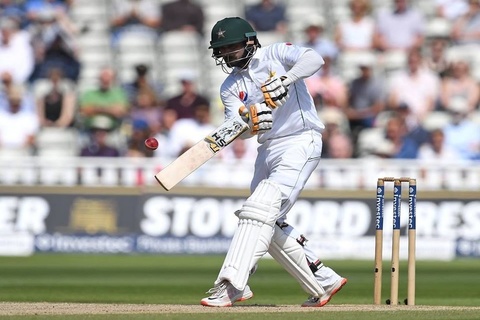 Quaid-E-Azam Trophy Grade-II Cricket Tournament 2018/19
Mirpur Stadium, AJK, UBL Sports Complex, Karachi and Iqbal Stadium, Faisalabad.
The last day of the league phase saw the remaining two matches in Faisalabad and Karachi yielding contrasting draws. At the Iqbal Stadium in Faisalabad, hosts Faisalabad grabbed another three points against Hyderabad to finish atop Group A with a total of 18 points. Azad Jammu Kashmir (AJK), winners by innings and 15 runs against Sialkot in in Mirpur, joined Faisalabad in the last-four stage from the pool with 14 points.
While Karachi Blues overwhelmingly topped Group B with a staggering 40 points after winning each of their four fixtures by innings, whereas Abbottabad qualified for the semi-finals with a tally of 21 points.
On the third and final day of action at the UBL Sports Complex, Quetta extended their overnight second-innings score from 64-4 to 149-8 declared with Taimur Khan hitting up an undefeated 54.
Left with a tall target of 274, Larkana ended up with 195-9 from 71 overs to earn an honourable draw. Faraz Aziz denied Quetta victory with a brilliant counterattacking innings of 93 with his 134-ball knock featuring 15 boundaries.
Faisalabad, who resumed at the overnight tally of 35-0, batted all day to reach 265-8 in their second innings. The obvious highlight being the undefeated 101 off 201 deliveries with 12 fours from the bat of Abubakar Khan.
In the semi-finals, starting from tomorrow, Faisalabad will be up against Abbottabad at the Iqbal Stadium, while Karachi Blues will take on Azad Jammu Kashmir at the Mirpur Cricket Stadium.


Scores and results of final day of three

At Iqbal Stadium, Faisalabad: Match drawn.
FAISALABAD 271 in 82.1 overs (Atiq-ur-Rehman 83, Abubakar Khan 37, Shahid Siddiqui 31, Khurram Shehzad Sr 31, Samiullah Khan Niazi 27; Nauman Ali 6-72, Babar Khan 2-60) and 265-8 in 84 overs (Abubakar Khan 101 not out, Shahid Siddique 57, Ali Shan 40;
*Lal Kumar 2-30, Nauman Ali 2-57, Nauman Akbar 2-59); HYDERABAD 236 in 73.5 overs (Lal Kumar 60, Babar Khan 52 not out, Nauman Ali 50; Waqas Maqsood 5-52, Khurram Shehzad Jr 2-44).
At UBL Sports Complex, Karachi: Match drawn.
QUETTA 328-4 in 83 overs (Shahbaz Khan 104, Taimur Khan 66, Shahzad Tareen 55, Abdul Hannan 41, Mohammad Ilyas 40; Faraz Aziz 2-85) and 149-8 declared in 49 overs (Taimur Khan 54 not out, Abdul Hannan 23, Abdul Rasheed 23, Nawab Khan 23; Ali Asghar 4-33, Shahnawaz Dhani 4-70);
*LARKANA 204 in 68.2 overs (Aamir Pahnwar 48, Mohsin Raza Khokhar 37, Mohammad Urs 20; Mohammad Javed 4-43, Mohiuddin 2-18, Nizamuddin 2-29) and 195-9 in 71 overs (Faraz Aziz 93, Habibullah 29, Aamir Pahnwar 29; Mohiuddin 2-19, Shahzad Tareen 2-34, Mohammad Javed 2-39, Gohar Faiz 2-63).