Peshawar Youth to face Jungle Khel Kohat in Tabdeeli Football Cup 2018/19 Final
The final match of 2nd Tabdeeli Football Cup will be played tomorrow in which Peshawar Youth will be up against Jungle Khel Kohat at Tehmash Khan Football Stadium in Peshawar.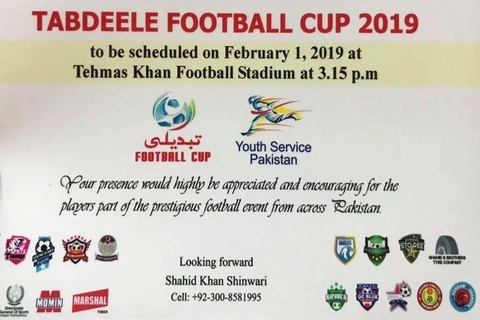 Tabdeeli Football Cup 2019
Tehmash Khan Football Stadium, Peshawar.
The second-final match was played between Peshawar Youth and Shinwari Stori before as well in which Peshawar Youth stunned the defending champions by winning through a narrow margin of 1-0 but Shinwari Stori had objection on the only goal conceded by the opponent team to which the match referee and match supervisors were not able to come to a final decision thus it was delayed to be decided yesterday at 04:00 PM.
But even yesterday the decision came in Peshawar Youth's favor and now Peshawar Youth will be battling against Jungle Khel Kohat for the final win tomorrow at 03:00 PM.
Tabdeeli Football Cup 2018/19 is being organized by FATA Olympic Association along with the Government of Khyber Pakhtunkhwa. This tournament is featuring a total of 13 teams from which players belonging to their respective categories are seen competing with their best foot skills against each other.
The participating teams include: Shinwari Stori, Shams Green, DC Khyber Green, Young Stars Bajaur, Hayatabad Champions, Peshawar Youth Stars, DC Khyber White, DC Khyber Blues, PK-72 Tiger, PA North Waziristan, Kurram Shaheen, Islamia University and Jungle Khel Kohat.