Karachi Blues completes a 4th consecutive innings victory in Quaid-E-Azam Trophy Grade-II Cricket Tournament 2018/19
Karachi Blues warmed up for the Quaid-E-Azam Trophy Grade-II Cricket Tournament semi-finals and completed a 4th consecutive innings victory by defeating Dera Murad Jamali (DMJ) yesterday NBP Sports Complex in Karachi.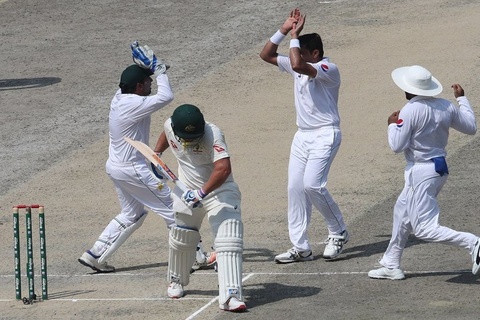 Quaid-E-Azam Trophy Grade-II Cricket Tournament 2018/19
Mirpur Stadium, AJK, UBL Sports Complex, Karachi and Iqbal Stadium, Faisalabad.
Karachi Blues warmed up for the Quaid-E-Azam Trophy Grade-II Cricket Tournament semi-finals in the best possible manner by completing a fourth consecutive innings victory with Dera Murad Jamali (DMJ) being their hapless opponents. Karachi Blues, who had earlier trounced Larkana, Abbottabad and Quetta without having to sweat much, outplayed DMJ in their final Group B encounter.
Meanwhile, Azad Jammu Kashmir (AJK) have virtually guaranteed themselves the only available last-four spot from Group A after Sialkot were forced to follow on.
Riding on a dazzling unbeaten 159 from Pakistan Test batsman Asad Shafiq, Karachi plundered 205 from the remaining 29 overs of the first-innings quota. Opener Ali Asad, who resumed at 70, was out for a 160-ball 89 (eight fours and one six) after adding 109 with Asad Shafiq. The skipper, who was 31 overnight, made sure he was denied the chance of a century as the diminutive right-hander smashed 19 fours and hoisted three sixes during his 153-ball innings. Saud Shakeel contributed a 49-ball 55 (six fours and one six) while sharing an unbroken partnership of 152 with Asad.
Starting their second innings with a deficit of 214, DMJ soon crumbled to 100-7 before Asif Ali struck a defiant 80 not out with his 127-ball contribution laced with 12 boundaries as DMJ eventually were all out for 208. Slow left-armer Mohammad Asghar captured four wickets for 74 runs in 26 overs to end up with match haul of 9-109 from 42 overs as Karachi Blues finished their campaign with a remarkable tally of 40 points.
Quetta earned a 124-run lead on the first innings when Larkana were curtailed to 204 all out in 68.2 overs at the UBL Sports Complex. Spinner Mohammad Javed grabbed 4-43 in 14 overs before his team hit back to leave Quetta tottering at 64-4 in the second innings.
AJK overwhelmingly dominated day two of play at the Mirpur Cricket Stadium by bundling Sialkot out for a miserable 88 after the visitors restarted their first innings at 1-0. Left-arm paceman Naqqash Basharat (5-34 in 12.3 overs) and Shadab Majeed (4-47 in 12) were the destroyers before Sialkot endured more miseries by finishing the day at 162-9 while still requiring 15 more runs to avert being humiliated by innings. Shadab has so far picked up four wickets for 35 runs.
Faisalabad, who are already in the semi-finals, gained a handy lead of 35 on the first innings when Hyderabad wee all out for 236 at the Iqbal Stadium in Faisalabad. Only Lal Kumar (60 off 94 balls, eight fours and one six), captain Nauman Ali (50 off 79, six fours and one six) and Babar Khan (unbeaten 52 off 94, nine boundaries) managed to play worthy knocks for the visiting side. Pakistan paceman Waqas Maqsood claimed 5-52 in 16.5 overs before the hosts went to stumps at 35-0 to enjoy an overall lead of 70.
Close of play scores (day two of three):
At Iqbal Stadium, Faisalabad: FAISALABAD 271 in 82.1 overs (Atiq-ur-Rehman 83, Abubakar Khan 37, Shahid Siddiqui 31, Khurram Shehzad Sr 31, Samiullah Khan Niazi 27; Nauman Ali 6-72, Babar Khan 2-60) and 35-0 in 10 overs (Shahid Siddique 23 not out);
*HYDERABAD 236 in 75.5 overs (Lal Kumar 60, Babar Khan 52, Nauman Ali 50, Uzair Jaffri 23, Saad Khan 20; Waqas Maqsood 5-52, Khurram Shehzad Jr 2-44).
At Mirpur Cricket Stadium, Mirpur (AJK): AZAD JAMMU KASHMIR 265-9 in 83 overs (Babar Khaliq 92, Daniyal Allahditta 61, Usman Maroof 32, Hasnain Shahmir 25, Inzamam-ul-Haq 20; Bilawal Bhatti 4-51, Mohammad Irfan Jr 3-68, Raza Hasan 2-68);
*SIALKOT 88 in 26.3 overs (Mohammad Irfan Jr 33; Naqqash Basharat 5-34, Shadab Majeed 4-47) and 162-9 in 30 overs (Shahid Yousuf 61, Bilawal Bhatti 31, Ali Raza 29; Shadab Majeed 4-35, Inzamam-ul-Haq 2-29).
At UBL Sports Complex, Karachi: QUETTA 328-4 in 83 overs (Shahbaz Khan 104, Taimur Khan 66, Shahzad Tareen 55, Abdul Hannan 41, Mohammad Ilyas 40; Faraz Aziz 2-85) and 64-4 in 29 overs (Abdul Hannan 23, Abdul Rasheed 23; Shahnawaz Dhani 3-27);
*LARKANA 204 in 68.2 overs (Aamir Pahnwar 48, Mohsin Raza Khokhar 37, Mohammad Urs 20; Mohammad Javed 4-43, Mohiuddin 2-18, Nizamuddin 2-29).
At NBP Sports Complex, Karachi: Karachi Blues beat Dera Murad Jamali by an innings and six runs.
DERA MURAD JAMALI 148 in 47 overs (Asif Ali 39, Dawood Khan 34, Fida Hussain 23, Saleem Mal 22 not out; Mohammad Asghar 5-35, Jam Saifullah 3-32, Mir Hamza 2-51) and 208 in 64.5 overs (Asif Ali 80 not out, Dawood Khan 44, Saleem Mal 29; Mohammad Asghar 44-74, Fawad Alam 2-31);
*KARACHI BLUES 362-2 declared in 74 overs (Asad Shafiq 159 not out, Ali Asad 89, Jaahid Ali 45, Saud Shakeel 55 not out).