Quaid-E-Azam Trophy Grade-II Cricket Tournament 2018/19 continue in full swing
PCB has organized the second phase of mega Quaid-E-Azam Trophy Cricket Tournament in which a total of 8 teams from all over Pakistan are seen competing in the matches at different venues within Pakistan.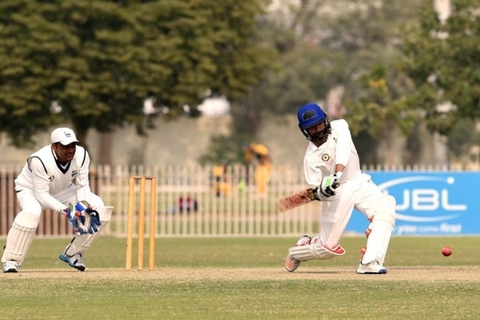 Quaid-E-Azam Trophy Grade-II Cricket Tournament 2018/19
Mirpur Stadium, AJK, UBL Sports Complex, Karachi and Iqbal Stadium, Faisalabad.
The day one of the fifth-round in Mirpur saw hosts Azad Jammu Kashmir (AJK) make a wonderful comeback after crashing to 112-7 when they were told to bat by Sialkot captain Shahid Yousuf. The next wicket didn't fall until 139 runs had been put on by all-rounder Babar Khaliq (92 off 135 balls, eight boundaries) and Daniyal Allahditta (61 off 147, eight fours).
AJK finally completed their quota of 83 overs at 265-9. Paceman Bilawal Bhatti (4-51 in 13 overs) and the lanky right-armer Mohammad Irfan Jr (3-68 in 22 overs) shared the bowling honors for the visitors who faced just a single over before stumps were drawn for the day.
Table leaders Faisalabad put up a solid team effort to collect 271 all out in 82.1 overs after being asked to bat first by Hyderabad skipper Nauman Ali at the Iqbal Stadium in Faisalabad.
Atiq-ur-Rehman batted with a lot of intelligence to top score with 83. His attractive 116-ball innings contained eight hits to the fence after having arrived in the middle 141-5. The next best score came from No.4 Abubakar Khan, who slammed seven fours in a busy 57-ball stay of 37.
Nauman led from the front with figures of six wickets for 72 in 29.1 overs before Hyderabad negotiated only a single delivery when play was halted for the day.
Presently, Faisalabad have 15 points with Hyderabad, Azad Jammu Kashmir and Bahawalpur who have already finished their league-round schedule, all tied with four points apiece, while Sialkot have three points.
Meanwhile, Quetta rode on another century from Shahbaz Khan to pile 328-4 in the stipulated 83 overs after Larkana captain Mohammad Urs chose to field first at the UBL Sports Complex.
Shahbaz struck an undefeated 104 (172 balls, seven fours) while sharing consecutive but productive partnerships of 93 (for the third wicket with skipper Shahzad Tareen, who hit a 119-ball 55 with five boundaries) and 129 (for the fourth with Taimur Khan, who hit six fours and one six in a 79-ball knock of 66.
Larkana then put a painstaking display in reply when they faced eight overs in which they mustered mere nine runs.
Karachi Blues, who are chasing a fourth successive victory by an innings, dismissed Dera Murad Jamali for a paltry 148 in 47 overs with slow left-armer Mohammad Asghar picking up five wickets for 35 runs in 16 overs the visitors opted to bat first in the other Group 'B' fixture at the NBP Sports Complex.
Needless to mention yet again, Karachi Blues were already in front at 157-1 from 45 overs with Ali Asad (70 off 127 balls, seven boundaries) and Jaahid Ali (45 off 83, four fours and one six) sharing a stand of 101 for the opening wicket. Captain Asad Shafiq was batting with a 60-ball 31, adorned with three fours.
Close of play scores (day one of three)
At Iqbal Stadium, Faisalabad: FAISALABAD 271 in 82.1 overs (Atiq-ur-Rehman 83, Abubakar Khan 37, Shahid Siddiqui 31, Khurram Shehzad Sr 31, Samiullah Khan Niazi 27; Nauman Ali 6-72, Babar Khan 2-60);
*HYDERABAD 0-0 in 0.1 over.
At Mirpur Cricket Stadium, Mirpur (AJK): AZAD JAMMU KASHMIR 265-9 in 83 overs (Babar Khaliq 92, Daniyal Allahditta 61, Usman Maroof 32, Hasnain Shahmir 25, Inzamam-ul-Haq 20; Bilawal Bhatti 4-51, Mohammad Irfan Jr 3-68, Raza Hasan 2-68);
*SIALKOT 1-0 in 1 over.
At UBL Sports Complex, Karachi: QUETTA 328-4 in 83 overs (Shahbaz Khan 104, Taimur Khan 66, Shahzad Tareen 55, Abdul Hannan 41, Mohammad Ilyas 40; Faraz Aziz 2-865);
*LARKANA 9-0 in 8 overs.
At NBP Sports Complex, Karachi: DERA MURAD JAMALI 148 in 47 overs (Asif Ali 39, Dawood Khan 34, Fida Hussain 23, Saleem Mal 22 not out; Mohammad Asghar 5-35, Jam Saifullah 3-32, Mir Hamza 2-51);
*KARACHI BLUES 157-1 in 45 overs (Ali Asad 70 not out, Jaahid Ali 45, Asad Shafiq 31 not out).