Karachi Blues maintains supremacy in Quaid-E-Azam Trophy Grade-II Cricket Tournament 2018/19
Karachi Blues earned third successive innings victory in Quaid-E-Azam Trophy Grade-II Cricket Tournament 2018/19 at the UBL Sports Complex in Karachi.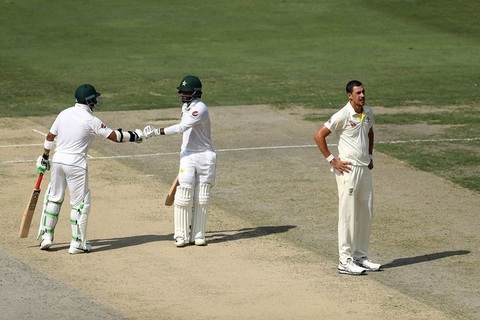 Quaid-E-Azam Trophy Grade-II Cricket Tournament 2018/19
Mirpur Stadium, AJK, UBL Sports Complex, Karachi and Iqbal Stadium, Faisalabad.
Having earlier motored past Larkana (innings and 13 runs) and Abbottabad (innings and 51 runs) with consummate ease, Karachi Blues were far too superior for Quetta as they trampled the hapless opponents by an innings and 254 runs on day two of the fourth-round Group B fixture to extend their tally of points to 30, including three bonus points.
After conceding a massive lead of 320 on the first innings, Quetta succumbed to the pace of left-armer Ghulam Mudassar (5-17) while folding up for a measly 66 with opener Bismillah Khan — the top scorer with 59 out of his team's first innings total of 91 — unable to bat.
Earlier, Karachi Blues added 182 to the overnight tally of 229-3 before finishing the quota of 83 overs at 411-6. Asif Zakir hit up 81 (104 balls, three fours and one six) while Ramiz Aziz made a 67-ball 62 (five fours and one six) as the two put on 123 for the fourth wicket.
Aitzaz Habib (107 off 163 balls, 12 fours and two sixes) and Niamat Ullah (58 off 71, five fours and two sixes) added 110 without being parted as Abbottabad reached 343-5 in their 83 overs while replying to Dera Murad Jamali (DMJ)'s first-innings score of 215.
Captain Adnan Raees had set the platform for the imposing total with 84 (122 balls, nine fours and one six) after his side began play at 84-2. DMJ then stuttered to 97-6 with an innings defeat imminent, a result that will guarantee Abbottabad the second semi-final spot from this pool.
Hyderabad were well placed to take lead against Sialkot after the latter struggled to 198-7 in reply to 272 made by Nauman Ali's team in the Group A game at the Iqbal Stadium in Faisalabad.
Bahawalpur were in deep trouble at 76-6 after Azad Jammu Kashmir (AJK) rode on Naved Malik's 121 (196 balls, 13 fours) to post 343-5 in the stipulated 83 overs at the Mirpur Cricket Stadium.
Close of play scores (day two of three)
At Iqbal Stadium, Faisalabad: HYDERABAD 272 in 79.1 overs (Azeem Ghumman 100, Mohammad Sulaiman 51, Uzair Jaffri 29; Bilawal Bhatti 4-55, Mansoor Amjad 2-40, Raza Hasan 2-57); *SIALKOT 198-7 in 62 overs (Ayaz Tasawwar 52 not out, Abdullah Shafiq 45, Faisal Khan 28, Shakeel Ansar 22; Asif Mahmood 4-25).
At Mirpur Cricket Stadium, Mirpur (AJK): AZAD JAMMU KASHMIR 343-5 in 83 overs (Naved Malik 121, Usman Maroof 86, Zohaib Bukhari 45, Babar Khaliq 42 not out; Ataullah 2-67); *BAHAWALPUR 76-6 in 42 overs (Zeeshan-ul-Haq 25 not out; Shadab Majeed 3-28, Zohaib Bukhari 2-13).
At UBL Sports Complex, Karachi: Karachi Blues beat Quetta by an innings and 254 runs.
QUETTA 91 in 33.2 overs (Bismillah Khan 59; Mohammad Asghar 5-32, Ashiq Ali 4-11) and 66 in 29.3 overs (Mohammad Ilyas 36 not out; Ghulam Mudassar 5-17, Fawad Alam 2-12, Mohammad Asghar 2-21);
*KARACHI BLUES 411-6 in 83 overs (Saud Shakeel 108, Hasan Mohsin 82, Asif Zakir 81, Ramiz Aziz 62, Asad Shafiq 20, Fawad Alam 20 not out; Azizullah 3-83, Mohammad Javed 2-118).
At NBP Sports Complex, Karachi: DERA MURAD JAMALI 215 in 75 overs (Abid Ali 62, Dawood Khan 57 not out, Aaqib Junaid 27; Fawad Malook 4-49, Mohammad Bilal 2-36) and 97-6 in 31 overs (Shahbaz Ali 26, Najeeb Ullah 21 not out; Aaqib Khan 3-42, Himayatullah 2-20);
*ABBOTTABAD 343-5 in 83 overs (Aitzaz Habib 107 not out, Adnan Raees 84, Niamatullah 58 not out, Sajjad Ali 49, Imran Shah 20; Talib Hussain 3-94).