Abbottabad makes a comeback over DMJ in Quaid-E-Azam Trophy Grade-II Cricket Tournament 2018/19
Abbottabad beat Dera Murad Jamali (DMJ) bidding to confirm their last-four spot yesterday in Quaid-E-Azam Trophy Grade-II Cricket Tournament 2018/19 at NBP Sports Complex, Karachi.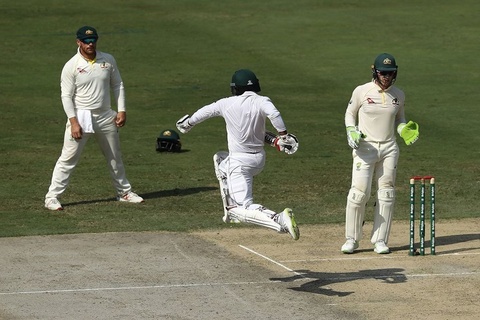 Quaid-E-Azam Trophy Grade-II Cricket Tournament 2018/19
Mirpur Stadium, AJK, UBL Sports Complex, Karachi and Iqbal Stadium, Faisalabad.
Saud Shakeel underlined his potential yet again with a sublime century after Karachi Blues spin twins Mohammad Asghar and Ashiq Ali had combined superbly to send Quetta crashing for 91 on day one of their fourth-round in the Tournament.
Test batsman Asad Shafiq, leading Karachi Blues — who are already assured of their place in the semi-finals — for the first time since his return from the recent 3-0 defeat in South Africa.
Quetta lasted mere 33.2 overs at the crease. Remarkably, the meager total included a brisk 70-ball knock of 59 from opener Bismillah Khan, the wicket-keeper who banged 11 boundaries. The only other batsman to enter double figures was captain Taimur Khan with a 29-ball 13.
Slow left-armer Asghar, who picked the prized scalp of Bismillah, finished with five wickets for 32 runs in 14 overs, while off-spinner Ashiq snared four for 11 in 9.2 overs. The solitary wicket to fall to a seamer was that of opener Abdul Hannan who failed to open his account and was cleaned out by young all-rounder Hasan Mohsin.
Hassan later excelled in his new role of an opener as he and Asad shared a first-wicket stand of 59 before the skipper was bowled by slow left-armer Mohammad Javed for a 46-ball 20 which was laced with three fours.
The left-handed Saud, then joined Hassan in a partnership that yielded 137 for the second wicket before Hassan was trapped LBW by Javed for an attractive 82. The right-hander struck 10 fours and one six during his 114-ball innings in a stay of 183 minutes.
Saud looked in great touch until he was dismissed on what turned to be the last ball of the day as Karachi Blues collected a commanding 229-3. The former Pakistan Under-19 captain was given out LBW to off-spinner Bakhtiar Shah for 108. His 124-ball effort in 147 minutes included 16 hits to the fence.
Abbottabad's bid to confirm their last-four spot got off to a good start as they reached 84-2 after bowling out Dera Murad Jamali (DMJ) for 215 in the other Group B tie at the NBP Sports Complex. After being put into bat, DMJ lost their way after being 135-3 at one point due to the excellent contributions from opener Abid Ali (62 off 134 balls, five boundaries) and Dawood Khan, who was left stranded on a 116-ball 57 (five fours).
Slow left-armer Fawad Malook continued his fine form with four wickets for 49 runs in 26 overs.
The uncertain weather conditions in the northern parts of the country resulted in play being curtailed in both the Group A matches.
Hyderabad, who were put into by Sialkot captain Shahid Yousuf at the Iqbal Stadium in Faisalabad, were 179-4 from 57 overs on the back of a brilliant 150-ball 100 (11 fours) from opener Azeem Ghumman. The former Pakistan Under-19 skipper added 98 for the third wicket with Mohammad Sulaiman 951 off 82, four fours and one six).
Only 38 overs of play was possible at the Mirpur Cricket Stadium in Azad Jammu Kashmir with the hosts riding on an unbroken partnership of 133 between opener Usman Maroof (70 off 123, eight fours and one six) and Naved Malik (58 off 93, eight fours) to close at 144-2.
Close of play scores yesteday (day one of three):
Fourth Round

At Iqbal Stadium, Faisalabad: HYDERABAD 179-4 in 57 overs (Azeem Ghumman 100, Mohammad Sulaiman 51, Uzair Jaffri 29; Bilawal Bhatti 2-35) vs SIALKOT.
At Mirpur Cricket Stadium, Mirpur (AJK): AZAD JAMMU KASHMIR 144-2 in 38 overs (Usman Maroof 70 not out, Naved Malik 58 not out) vs BAHAWALPUR.
At UBL Sports Complex, Karachi: QUETTA 91 in 33.2 overs (Bismillah Khan 59; Mohammad Asghar 5-32, Ashiq Ali 4-11);
*KARACHI BLUES 229-3 in 53.1 overs (Saud Shakeel 108, Hasan Mohsin 82, Asad Shafiq 20; Mohammad Javed 2-59).
At NBP Sports Complex, Karachi: DERA MURAD JAMALI 215 in 75 overs (Abid Ali 62, Dawood Khan 57 not out, Aaqib Junaid 27; Fawad Malook 4-49, Mohammad Bilal 2-36);
*ABBOTTABAD 84-2 in 20 overs (Sajjad Ali 38 not out, Imran Shah 20).