Shinwari Stori refuses to accept defeat in Tabdeeli Football Cup 2018/19
Shinwari Stori won on a close call by 1-0 against PK 72 in the 11th match played into Tabdeeli Football Cup 2018/19 which is being held at Tehmash Khan Football Stadium in Peshawar.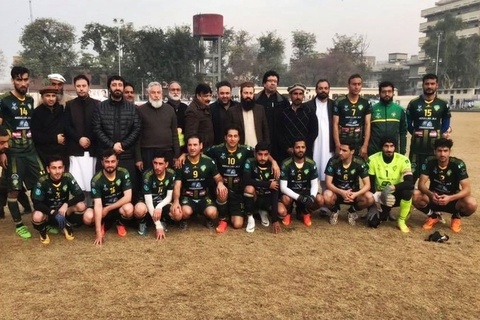 Tabdeeli Football Cup 2019
Tehmash Khan Football Stadium, Peshawar.
Shinwari Stori and PK 72 teams were battling for the win the 11th match played into the league in which from the first whistle both the teams started aggressively with waves of attacks at each other's goal post and availed as well as lost several goal scoring opportunities as big saves from both the goal keepers were seen throughout the match.
None of the teams were able to dominate as good as they could have because of the players from both sides kept moving the ball well at speed and struggled to get a foothold but Shinwari Stori's side came out progressively different after no goal from either side and slotted past PK 72 team players and finally found the back of the opponent team's net.
The 2019 Tabdeeli Football Cup is featuring a total of 13 teams from which players belonging to their respective teams are seen competing against each other so as to win top honors in the league.
Shinwari Storee is defending the title and besides Shinwari Storee, Shams Green, DC Khyber Green, Young Stars Bajawar, Hayatabad Champions, Peshawar Youth Stars, Khyber DC White, Khyber DC Blues, PK-72 Tiger, North Waziristan, Kurram Shaheen, Islamia Zalmi, Star Jangal Khail, Kohat are also taking part.