Karachi Blues top group B table in Quaid-E-Azam Trophy Grade-II Cricket Tournament 2019
Karachi Blues destroy Abbottabad by an innings and 51 runs to qualify for the Quaid-E-Azam Trophy Grade-II Cricket Tournament 2019 semi-finals at UBL Sports Complex in Karachi.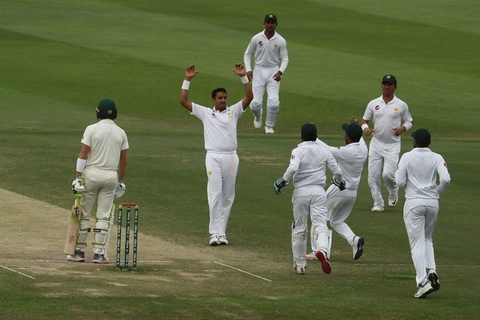 Quaid-E-Azam Trophy Grade-II Cricket Tournament 2018/19
Mirpur Stadium, AJK, UBL Sports Complex, Karachi and Iqbal Stadium, Faisalabad.
Due to the rain the match started after a delay of 90 minutes on the third and final day of third-round Group B.
Karachi Blues needed just few minutes between the rains to demolish Abbottabad by an innings and 51 runs while qualifying for the semi-finals of the tournament. Already in the mire at 104-6 after being forced to follow on, Abbottabad managed only 12 runs in the six overs before they were dismissed for 118 with left-arm duo of paceman Mir Hamza and Mohammad Asghar sharing the remaining four wickets to fall. Asghar finished with three wickets for 36 runs from 11 overs and Hamza claimed 2-17 in his eight overs.
With their second straight victory by innings, Karachi Blues top the pool with 20 points, while Abbottabad are all but assured of reaching the knockout stage since they have 18 points from their three matches.
The other Group B encounter at the NBP Sports Complex was left drawn after play was restricted to 48 overs. Larkana, who secured their first three points in the competition, extended their overnight second-innings total from 40-2 to 168-6. The highlight being Asif Babar's fine batting. He made a brisk 80 off 73 deliveries while striking seven boundaries and a brace of sixes.
Due to the heavy rains countrywide, both Group A matches were being abandoned as no play was possible either at the Iqbal Stadium in Faisalabad or the Mirpur Cricket Stadium in Azad Jammu Kashmir. However, Faisalabad earned three points to take another step towards making the semi-finals.
Currently, Misbah-ul-Haq's men have 15 points from three matches with Hyderabad on four points — including one from their latest game against Azad Jammu Kashmir — from two fixtures.
The fourth-round of three-day matches will start from Wednesday.
Scores and results (final day of three):
At Iqbal Stadium, Faisalabad: Match drawn — no play on day three due to rain.
BAHAWALPUR 88 in 36 overs (Noman Akram 20; Waqas Maqsood 6-29, Asad Ali 3-19);
*FAISALABAD 215-8 in 64.5 overs (Raees Ahmed 50 not out, Khurram Shehzad 37, Abubakar Khan 37, Asad Ali 27, Ahmed Shehzad 25, Misbah-ul-Haq 21; Mohammad Umair 5-42, Ataullah 2-27).
At Mirpur Cricket Stadium, Mirpur (AJK): Match drawn — no play on day three due to rain.
HYDERABAD 226 in 53 overs (Babar Khan 56 not out, Saad Khan 49, Azeem Ghumman 45; Shadab Majeed 4-75, Rashid Khan 3-59, Naqqash Basharat 3-60);
*AZAD JAMMU KASHMIR 172-2 in 56 overs (Usman Maroof 67, Hasnain Sameer 54, Sardar Hasan Raza 25 not out).
At UBL Sports Complex, Karachi: Karachi Blues beat Abbottabad by an innings and 51 runs.
KARACHI BLUES 333-7 in 83 overs (Ramiz Aziz 87, Fawad Alam 81, Hasan Mohsin 49, Saud Shakeel 45, Asif Zakir 27, Akbar-ur-Rehman 23; Kamran Ghulam 2-37, Aitzaz Habib 2-78); *ABBOTTABAD 164 in 57.2 overs (Adnan Raees 57, Kamran Ghulam 34, Aitzaz Habib 25 not out, Mudassar Iqbal 22; Ramiz Aziz 2-14, Fawad Alam 2-17, Mir Hamza 2-22, Mohammad Asghar 2-57) and 118 in 41 overs (Kamran Ghulam 36, Imran Shah 23, Adnan Raees 20; Sohaib Khan 3-33, Mohammad Asghar 3-36, Hasan Mohsin 2-6, Mir Hamza 2-17).
At NBP Sports Complex, Karachi: Match drawn.
LARKANA 297-5 in 83 overs (Habibullah 125 not out, Rameez Ahmed 62, Mohammad Urs 33 not out, Hamesh Kumar 26, Mohsin Raza 26; Saleem Mal 2-87) and 168-6 in 64 overs (Asif Babar 80, Habibullah 24, Mohsin Raza 24, Rameez Ahmed 20 not out; Saleem Mal 2-14, Ahmer Aziz 2-34);
*DERA MURAD JAMALI 249 in 80.2 overs (Nasir Khan 51, Najeebullah 46, Ahmer Aziz 40, Dawood Khan 37, Aaqib Junaid 26; Ali Asghar 3-60, Faraz Aziz 2-49, Mohammad Urs 2-54, Shahnawaz Dhani 2-65).