Karachi Blues end Abbottabad's winning streak in Quaid-E-Azam Trophy Grade-II Cricket Tournament 2019
Karachi Blues overwhelmingly dominated the second day of the three-day fixture as well in their Group 'B' clash here at the UBL Sports Complex in Karachi.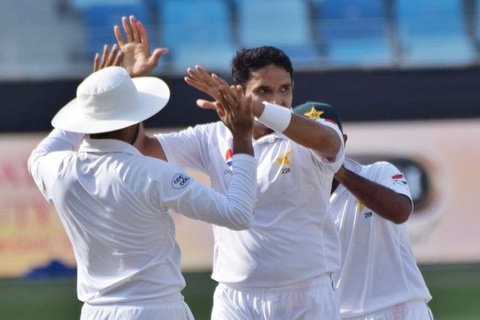 Quaid-E-Azam Trophy Grade-II Cricket Tournament 2018/19
Mirpur Stadium, AJK, UBL Sports Complex, Karachi and Iqbal Stadium, Faisalabad.
The visitors from the northern region of the country, who were forced to follow on after folding up for 164 in reply to Karachi Blues' first-innings total of 333-7. Abbottabad's miseries were further extended when they slumped to 104-6 in their second turn at the crease, while still requiring 63 to avert an innings defeat after starting the competition with back-to-back wins against Quetta and Larkana.
Karachi Blues, who had crushed Larkana by innings and 13 runs in their opening game last week at the same venue, are hot favorites to double their tally of points to 20 on Monday's final day of this third-round tie.
Resuming at 6-2, Abbottabad made solid recovery to reach 106-4 before losing the remaining six wickets for the addition of only 58 runs on a day of pale sunshine. Slow left-armer Sohaib Khan later grabbed three wickets as Abbottabad once again failed to get going in their second innings.
Larkana obtained a first-innings lead of 48 by bowling out Dera Murad Jamali (DMJ) for 249 in the other Group B match at the NBP Sports Complex. DMJ, who were in trouble at 16-2 on Saturday evening, owed their comeback to Ahmer Aziz (40 off 151 balls, three fours) and Najeeb Ullah (46 off 59, five fours) who together were involved in an eighth-wicket partnership of 64.
Earlier in the day Ahmer partnered Nasir Khan (51 off 75 balls, eight boundaries) in a fourth-wicket stand of 75.
Larkana went to stumps at 40-2 in their second innings to hold an overall lead of 88.
Meanwhile play was curtailed in both the Group A fixtures. At the Iqbal Stadium in Faisalabad, the hosts could add just 107 runs for the loss of five more wickets in 28.5 overs of action.
Off-spinner Mohammad Umair checked Faisalabad's progress with excellent return of 5-42 in 12 overs, while Raees Ahmed batted enterprisingly to strike a 79-ball 50 not out with the aid of four fours and one six.
Azad Jammu Kashmir (AJK)'s hopes of overhauling Hyderabad's score of 226 was held up by inclement weather at the Mirpur Cricket Stadium where the home side faced a total of 39.2 overs during which they moved from 54-0 to 172-2 as Usman Maroof (67 off 137 balls, 11 boundaries) and Hasnain Sameer (54 off 139, seven fours) shared an opening partnership of 125.


Close of play scores of yesterday (day two of three):
At Iqbal Stadium, Faisalabad: BAHAWALPUR 88 in 36 overs (Noman Akram 20; Waqas Maqsood 6-29, Asad Ali 3-19);
FAISALABAD 215-8 in 64.5 overs (Raees Ahmed 50 not out, Khurram Shehzad 37, Abubakar Khan 37, Asad Ali 27, Ahmed Shehzad 25, Misbah-ul-Haq 21; Mohammad Umair 5-42, Ataullah 2-27).
At Mirpur Cricket Stadium, Mirpur (AJK): HYDERABAD 226 in 53 overs (Babar Khan 56 not out, Saad Khan 49, Azeem Ghumman 45; Shadab Majeed 4-75, Rashid Khan 3-59, Naqqash Basharat 3-60);
*AZAD JAMMU KASHMIR 172-2 in 56 overs (Usman Maroof 67, Hasnain Sameer 54, Sardar Hasan Raza 25 not out).
At UBL Sports Complex, Karachi: KARACHI BLUES 333-7 in 83 overs (Ramiz Aziz 87, Fawad Alam 81, Hasan Mohsin 49, Saud Shakeel 45, Asif Zakir 27, Akbar-ur-Rehman 23; Kamran Ghulam 2-37, Aitzaz Habib 2-78);
*ABBOTTABAD 164 in 57.2 overs (Adnan Raees 57, Kamran Ghulam 34, Aitzaz Habib 25 not out, Mudassar Iqbal 22; Ramiz Aziz 2-14, Fawad Alam 2-17, Mir Hamza 2-22, Mohammad Asghar 2-57) and 104-6 in 35 overs (Kamran Ghulam 36, Imran Shah 23, Adnan Raees 20; Sohaib Khan 3-33, Hasan Mohsin 2-6).
At NBP Sports Complex, Karachi: LARKANA 297-5 in 83 overs (Habibullah 125 not out, Rameez Ahmed 62, Mohammad Urs 33 not out, Hamesh Kumar 26, Mohsin Raza 26; Saleem Mal 2-87) and 40-2 in 16 overs (Hamesh Kumar 23 not out);
*DERA MURAD JAMALI 249 in 80.2 overs (Nasir Khan 51, Najeebullah 46, Ahmer Aziz 40, Dawood Khan 37, Aaqib Junaid 26; Ali Asghar 3-60, Faraz Aziz 2-49, Mohammad Urs 2-54, Shahnawaz Dhani 2-65).