Faisalabad records first win in Quaid-E-Azam Trophy Grade-II Cricket Tournament 2018/19
Spinner Mohammad Qasim Ali starred with a six-wicket haul against Sialkot as Faisalabad swiftly moved towards their first success in the Quaid-i-Azam Trophy Grade-II Cricket Tournament at Iqbal Stadium in Faisalabad.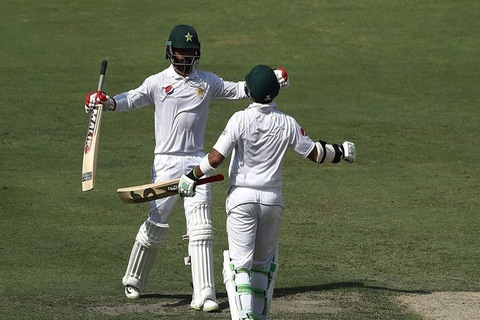 Quaid-E-Azam Trophy Grade-II Cricket Tournament 2018/19
Mirpur Stadium, AJK, UBL Sports Complex, Karachi and Iqbal Stadium, Faisalabad.
At stumps on day two of the three-day Group 'A' fixture at the Iqbal Stadium, Sialkot were already in the mire at 135-9 after Faisalabad had secured a healthy lead of 101 runs on the first innings.
Faisalabad, who were 97-4 in reply to the visitors' first-innings score of 202 at stumps on Tuesday, lost three quick wickets in the space of just 22 runs after resumption, including that of skipper Misbah-ul-Haq, who added only nine to his overnight 37 before being trapped LBW by paceman Bilal Bhatti for a 107-ball 46 (seven boundaries).
However, wicket-keeper Ali Shan worked diligently with the tail as the last three wickets added 83 runs with Ali returning unbeaten on an 88-ball 54 that included seven fours and a brace of sixes.
Asad Ali (21) helped Ali Shan add 39 for the eighth wicket before Khurram Shehzad, Sialkot's wrecker-in-chief on day one with 7-55, joined Ali in another productive partnership of 44. Khurram made 13.
Bilawal finished with three for 35 with fellow paceman Mohammad Ali taking 3-67 in 23 overs.
Sialkot got their second innings off to a decent start with openers Asad Ali (25) and Abdullah Shafiq (22) adding 31 before Abdullah and Faisal Khan put on 38. But rapid loss of wickets thereafter derailed the innings together. Faisal stood with a 59-ball 52 while striking eight boundaries.
Qasim claimed six for 31 in 12.3 overs with Khurram and Asad Ali sharing the remaining two wickets taken by the bowlers.
Hyderabad are certain of at least claiming three points after reducing Bahawalpur to 261-9 in 78 overs at the Mirpur Cricket Stadium in Azad Jammu Kashmir.
Starting at 294-8, Hyderabad added another 21 runs from the remaining two overs to finish their first innings at 315-9.
Bahawalpur's reply was dominated by a fine undefeated century from Mohammad Umair, who scored 113 off 190 balls with the aid of nine fours and two sixes.
Abbottabad and Quetta were both dictating terms in the Group 'B' encounters here in Karachi.
In the match at the UBL Sports Complex, Larkana require another 307 to win after ending the day at 20-2 in their second innings.
Earlier, Larkana were bowled out for 153 after starting at 99-5 with slow left-armer Fawad Malook (4-25 in 16.3 overs) and off-spinner Aitzaz Habib (4-40 in 21 overs) with doing the damage.
Abbottabad, having taken a substantial 91-run lead, then closed their second innings at 237-6 with Kamran Ghulam (52 off 64 balls, seven fours) and Sajjad Ali 951 off 49, seven fours and one six) leading the way.
Dera Murad Jamali (DMJ) faced a mission impossible at the NBP Sports Complex after being forced to follow on against Quetta.
DMJ mustered a paltry 136 in response to Quetta's 305-4 after starting their overnight first innings at 12-0, while losing all 10 wickets for 96 runs after Abid (20) and Nasir Khan (22) began promisingly with a first-wicket stand of 40.
The pace trio of Gohar Faiz (4-58 in 18 overs)), left-armer Azizullah (3-25 in nine) and Mohiuddin (2-33 in 11) shared the bowling honors.
Batting again DMJ fared marginally to collect 108-3, a situation that could have been far better since Abid (54 off 103 balls, seven boundaries) and Nasir (26) were involved in a fine partnership of 79 upfront. They still require 33 to avert innings defeat.
Second Round Results:
SIALKOT 101 in 34.1 overs (Abdullah Shafiq 34, Shakeel Ansar 22; Khurram Shehzad 7-55, Ehsan Adil 2-16) and 135-9 in 33.3 overs (Faisal Khan 52, Asad Ali 25, Abdullah Shafiq 22; Mohammad Qasim 6-31);
FAISALABAD 202 in 66 overs (Ali Shan 54 not out, Misbah-ul-Haq 46, Abubakar Khan 37, Asad Ali 21; Bilawal Bhatti 3-35, Mohammad Ali 3-67, Raza Hasan 2-39).
HYDERABAD 315-9 in 83 overs (Mohammad Sulaiman 73, Saad Khan 60, Azeem Ghumman 53, Zeeshan Gul 53, Asad Malik 23 not out; Mohammad Imran 4-64, Mohammad Junaid 4-116);
BAHAWALPUR 261-9 in 78 overs (Mohammad Umair 113 not out, Adeel Basit 43, Moinuddin 22; Nauman Ali 3-78, Asif Mahmood 2-36, Asad Malik 2-36).
ABBOTTABAD 244 in 59.1 overs (Aitzaz Habib 77 not out, Sajjad Ali 55, Imran Shah 39, Kamran Ghulam 30; Faraz Aziz 5-59, Muzammil Ali 2-39, Ali Asghar 2-78) and 237-6 declared in 52 overs (Kamran Ghulam 52, Sajjad Ali 51, Fawad Malook 41 not out, Mohammad Hasnain 34 not out, Imran Shah 23; Ali Asghar 3-55; Shahnawaz Dhani 2-65);
LARKANA 153 in 62.5 overs (Asif Babar 39, Mohsin Khokhar 24, Aamir Panhwar 24; Fawad Malook 4-25, Aitzaz Habib 4-40) and 20-2 in 3.2 overs.
QUETTA 305-4 in 83 overs (Shahbaz Khan 136 not out, Shahzad Tareen 69, Abdul Hannan 45);
DERA MURAD JAMALI 136 in 54.2 overs (Nasir Khan 22, Saleem Mal 22, Abid Ali 20; Gohar Faiz 4-58, Azizullah 3-25, Mohiuddin 2-33) and 108-3 in 40 overs (Abid Ali 54, Nasir Khan 26; Shahzad Tareen 2-26).