Abbottabad & Karachi Blues win Quaid-E-Azam Trophy Grade-II Cricket Tournament 2018/19 openers
Hyderabad and Dera Murad Jamali (DMJ) will play their opening matches in the Quaid-E-Azam Trophy Grade-II Cricket Tournament 2018.19 today in the second-round fixtures at Mirpur Cricket Stadium and NBP Sports Complex.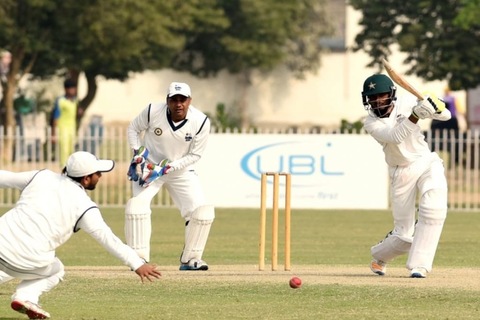 Quaid-E-Azam Trophy Grade-II Cricket Tournament 2018/19
Mirpur Stadium, AJK, UBL Sports Complex, Karachi and Iqbal Stadium, Faisalabad.
The Quaid-E-Azam Trophy Grade-II Cricket Tournament 2018/19 begin with Abbottabad winning over Quetta in the first match played on the first day.
After Shahzad Tareen chose to bat upon winning the toss, Quetta batsmen had no answer to the upcoming paceman Arshad Iqbal (4-12 in 10.1 overs) and slow left-armer Fawad Malook (3-9 in 7 overs) as the entire innings lasted just 35.1 overs and a grand total of 213 minutes.
Barring opener Bismillah Khan and Taimur Khan, both scored 19, no other managed even more than seven runs while five departed without opening their account.
Abbottabad ended their good day with a lead of 109 as they went to stumps at 173-6. Imran Shah, opening the innings, is still going strong with a solid 59 as he adorned his 140-ball knock with nine boundaries.
In the other Group 'B' fixture, Karachi Blues were in some strife at 47-3 after having restricted Larkana to 143 all out in 70 overs.
Larkana, put into bat by Karachi captain Fawad Alam, struggled to put up a decent total despite Habib Ullah contributing a painstaking 40 from 136 deliveries. Test paceman Mir Hamza grabbed 3-47 in 16 overs while the left-arm spin accounted for the remaining seven wickets as Mohammad Asghar snared four of them for 50 runs in 26 overs and Fawad taking the rest for 10 runs in as many overs.
Other first day match results:
Group A
: at Iqbal Stadium, Faisalabad: AZAD JAMMU KASHMIR 311-8 in 83 overs (Babar Khaliq 109, Naved Malik 51, Farhan Raja 40, Inzamam-ul-Haq 29 (not out), Sardar Hasan Raza 27; Waqas Maqsood 5-46, Ehsan Adil 2-60) vs FAISALABAD.
At Mirpur Cricket Stadium, AJK: BAHAWALPUR 163-8 in 56 overs (Mohammad Umair 59 not out, Mohammad Sudais 28, Atif Jabbar 3-37, Bilawal Bhatti 3-42) vs SIALKOT.
Group B
: at UBL Sports Complex, Karachi: LARKANA 143 in 70 overs (Habibullah 40, Faraz Aziz 31, Mohsin Khokhar 20; Mohammad Asghar 4-50, Fawad Alam 3-10, Mir Hamza 3-37);
KARACHI BLUES 47-3 in 18 overs (Faraz Aziz 2-2).
At NBP Sports Complex, Karachi: QUETTA 64 in 35.1 overs (Bismillah Khan 19, Taimur Khan 19; Arshad Iqbal 4-12, Fawad Malook 3-9, Himayatullah 2-12);
ABBOTTABAD 173-6 in 52 overs (Imran Shah 59 not out, Adnan Raees 35, Fawad Malook 27 not out; Mohiuddin 3-26).
Pakistan Cricket Board (PCB) is organizing the second phase of mega Quaid-e-Azam Trophy Cricket Tournament and the winners of this tournament will qualify for next season's Quaid-E-Azam Trophy National Cricket Championship.
Today, Hyderabad will take on Bahawalpur in their Group A match at the Mirpur Cricket Stadium in Azad Jammu Kashmir while DMJ take on Quetta in the Group tie at NBP Sports Complex.