16 teams line up to compete in U-19 Lyari Super League from 20th October
The Wish Foundation is organising U-19 Lyari Super League in which 16 teams will compete against each another at KPT Stadium, Karachi from October 20 to November 4.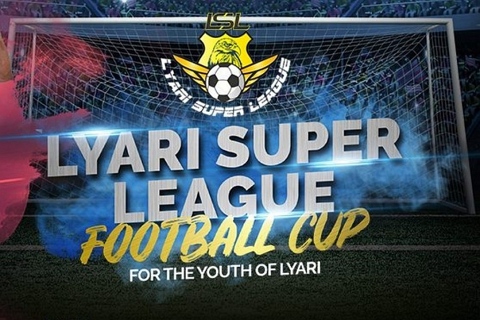 Lyari Super League Football Cup 2018
KPT Stadium, Karachi
The Wish Foundation is organising the U-19 Lyari Super League at KPT Stadium, Karachi from October 20 to November 4 to engage talented youth of Lyari in healthy football activity. There will be 16 teams competing against each another and their trials were held recently to select the best in the business.
Following are the participating Teams:
1. Agra Taj EarthQuakes
2. Baghdadi Jewels Of Lyari
3. Terminators Of Chakiwara
4. Bengal Tigers Of Gul Md Lane
5. Kalakot Tsunami
6. Kallari Gorillas
7. Meera Naka Pirates of Lyari
8. Volcanoes Nawa Lane
9. Tornadoes Phool Patti Lane
10. Gladiators Rangiwara
11. Wild Eagle's Of Rexer Lane
12. Anaconda's Of Shahbaig Lane
13. Dragon Fires Tuglaq Lane
14. King Cobra Sadar Bar
15. Kali Andhi Saify Lane
16. Roman Reigns Singo Lane
Suhail Baluch of Wish Foundation announced that Karachi Port Trust (KPT) has very graciously allowed the foundation to arrange a football tournament in KPT Stadium, for which they are grateful to KPT.
He said that to manage and arrange the tournament in an organised and accomplished manner, the Wish Foundation is in need of funds. "I have requested all my friends to kindly donate whatever they can and participate in this noble cause, other than friends Unilever, Serene Air and Volta have promised to donate for this worthy and righteous cause.
"Other than education and sports, the biggest problem being faced by the residents of Lyari is clean drinking water. Nearly, everyone whom I visited requested that if the foundation can arrange for it at different locations in Lyari. We are planning to arrange at least 4 spots where we can get boring done and install small filtration plants to provide drinking water. I would request you to help and assist the foundation in whatever way you can," he added.