Russia thrash Pakistan by 5-0 in International Socca World Cup 2018
Pakistan suffers loss against Russia by 0-5 in their last group match of International Socca World Cup 2018 which is being held at Lisbon in Portugal.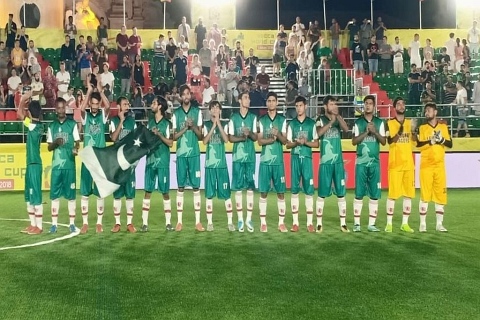 International Socca World Cup 2018
Lisbon, Portugal.
Pakistan faced world's one of the strongest football teams Russia in their last group match in which Pakistan displayed yet again a disappointing performance which led to their third loss into the game.
Pakistan was seen making quite a comeback in the few opening minutes and held their effort well into the match but Russia did not let the Pakistani players' hopes high and took the lead in the 14th minute after breaking down Pakistan's defence netting the first goal through K. Aleksandr.
The game could not have been more difficult for Pakistan because the players were already under pressure from their opponent team as they were not able to score a single goal in all the three matches played in the tournament. Pakistan suffered with ill luck in the third match yet again as the winning team kept slamming scores for their side through I. Sergei twice and once by R. Rustam.
Pakistani Footballers knew they needed a performance of fierce tactical discipline and near perfection to establish a platform to win at least in the last group match in the tournament but their hard work was not worth gaining the victory.
Pakistan seemed sloppy throughout and fell behind completely when P. Aleksei scored the 5th and last goal winning the match in the 39th minute. Disappointing performance of Pakistani players allowed Russia to gain a convincing 5-0 victory for their team.