Pakistan falls to Moldova in Socca World Cup 2018
Pakistan suffers another loss in their second match against Moldova by 0-6 in the International Socca World Cup 2018 which is being played at Lisbon, Portugal.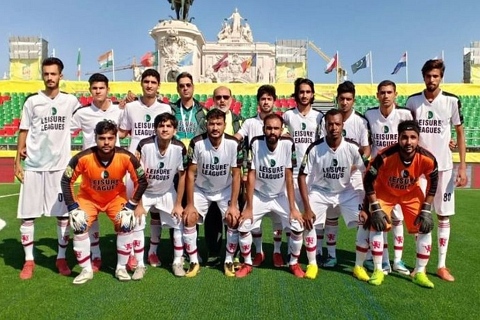 International Socca World Cup 2018
Lisbon, Portugal.
Pakistan made a losing start in the championship when they lost to Spain in their opening match by 0-5 and losing yet again to Moldova by 0-6. Pakistan's performance did not improve a bit making them lose in their second group B match as well.
Moldova players were successful in soaking the pressure from their opponents in the opening minutes and then hitting them on swift counter-attacks. The opponent team players were controlling the game and creating chances in which they mostly got successful.
However, despite coming close a few times Pakistan did not make it to the winning team's goal post for a single time. Pakistani footballers kept trying to supply goal chances but failed at every attempt.
Trying to chase a goal into the 23rd minute of the game, Pakistan was caught at the third goal from the opposite side which made it their hat-rick by Captain Lulian. Pakistan desperately moved and the players launched themselves at the goal post in which wonderful foot-skill was shown by Pakistani defender Umer Javed.
Pakistan's players were caught again by a swift Moldavian counter-attack in the 37th minute facing 5th goal from the opponent side through N. Serghei. Just after 37th minute goal by Moldova, Pakistan made a try at the opposite goal post but failed miserably. Pakistan's Goal keeper got successful in denying the 6th goal from Moldova but it proved not more than just an initial save as Moldova's attack rebounded in the 39th minute marking it their 6th goal into the game. Moldava won the match as their footballers made no mistake in gaining the victory for the match.
Pakistan will now take on Russia in their final group B match on Thursday 27th of September at Trunkwala Arena in Lisbon, Portugal.