ESSA Lab Open National Tennis Championship continue in full swing
Ahsan Siddiq moved into the second round of under-18 singles in Essa Lab Open National Senior & Junior Tennis Championship at DA Creek Club, Karachi.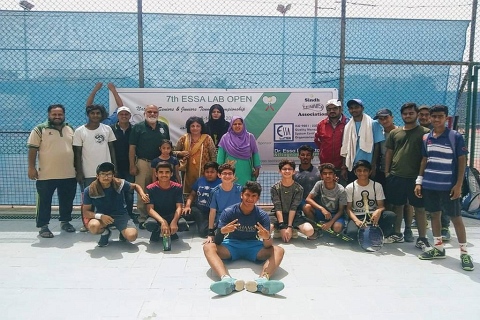 7th ESSA Lab Open National senior and junior Tennis Championship
On the second day, Osama Khan thrashed Muhammad Hadin with the final score line of6-0, 6-0 in under-18 category of the 7th Essa Lab Open National Senior and Junior Tennis Championship which is being played at the DA Creek club courts, Karachi.
In the first round of under-18, Ahsan overpowered Saad Ahmad Rehman from Hyderabad to move into the second round with the final score of 6-2, 6-0.
In under-14 singles first round, Haris Tariq beat Abdullah Imran Lohya 6-2, 6-2; Farooq Atiq beat Taha Aman 6-3, 6-3; Hasnain Khurram beat Yousuf Halim 6-1, 1-6, 10-3; Ranek Remesh beat Ayan Khan 6-2, 6-1; and Rayyan Ahmed beat Haseeb Mehmood 6-2, 6-1.
Ayan Yousuf defeated Ibrahim Noman 8-2 in the first round of under-12 singles.
In the first round of under-10 singles Mir Saqib beat Burhanuddin 8-3; Aryan Mir thrashed Hussain Naqvi 8-0, and Nael Mirza won against M Yahya 8-4.
In 35 plus singles first round, Aftab Hussain beat Ali Imran Malik 8-5 and Mustafa Barny defeated Amir Qamar 8-3.