Nouman, Yasir, Hira, Farhan shines in EAM & SEM tennis championship
Farhan Altaf, Nouman Aftab, Hira Ashiq and Yasir Khan defeated their respective opponents in the 2nd round of the men's singles event of 2nd EAM & SEM Memorial National tennis championship at Karachi Gymkhana, Karachi.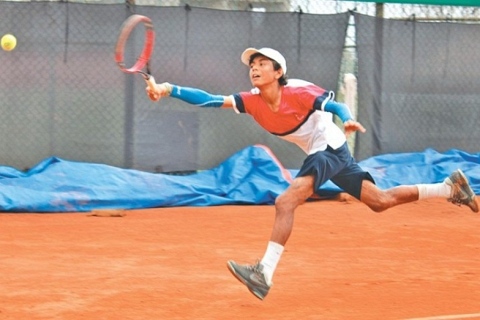 2nd EAM & SEM Memorial Tennis Championships
Karachi Gymkhana
Pakistan # 1 Aqeel Khan got a walkover against Munir Ashiq in men's single second round. Saqib Umer, Zeeshan Ashraf, M Dada, Hira Ashiq, Farhan Altaf, Yasir Khan, Waqas Malik, M Nouman Aftab, M Shoaib and Shakirullah Khan outplayed their respective opponents to move into the next round of men's singles.
In the under-18 singles, Muhammad Shoaib put a shiny start as he stunned Rayyan Jawad in a straight sets with the final score line of 6-2,6-2 while Osama Khan and Saqib Omar beat their respective opponents to advance into the next round.
Men's Singles 2nd round Results:
Aqeel Khan walkover Munir Ashiq (Lahore);

Saqib Umer (KPK) bt Tahirullah Khan KPK 6-3, 6-3;
Zeeshan Ashraf (Faislabad) bt Moosa Choudhry (ISB) 6-4,2-6 6-2;
M Dada bt Ikramullah KPK 6 -3 6-2;
Hira Ashiq (LHR) bt Mustafa burney 6-2,6-1;
Farhan Altaf bt Naresh Das 6-0,6-1;
Yasir Khan bt Nadir Khan (Hyd) 6-1,6-2;
Waqas Malik bt Sheerz Bhand (Hyd) 6-1,6-1;
M Nouman Aftab bt Hasan Khan 6-2,6-2;
M Shoaib (KPK) bt Osama Khan 6-2,6-0;
Shakirullah Khan (KPK) bt Asadullah 6-3,6-4.
U -18 Singles 2nd Round Results:
M Shoaib bt Rayyan Jawad 6-2.6-2;
Osama Khan bt Ahsan Siddiqu 6-2,6-0;
Saqib Umar Hayat bt Nadir Bachini (Hyd) 6-3,6-1
U -16 Singles 1st round Results:
Ibrahim Khan bt Hasan Mashadi 6-0-6-0;
Ashar Mir bt Ahsan Sadiq 7-5,6-4
U-12 Singles Main 1st Round Results
Yousuf Haleem bt Abdullah Imran 8-1;
Aisam Malik bt Ibrahim Qureshi 8-4;
Hasan Jamal bt Kashan Tariq 8-1
U-10 Singles 1st Round Results
Hamza Roman bt Hani Ali 8-0;
Sabrina Khan bt M Humayal 8-1;
Ismail Aftab bt Muzamil Qureshi 8-0;
Ibrahim Qureshi bt burhanuddin 8-1;
Duraf Das bt Ahsan Ahmed 8-6;
Zain Ehtisham bt M Yahya 8-4.