Mahin, Nauman Syed seals Tajammul Abbas ITF Pakistan World Junior titles
Mahin Qureshi and Nauman with their partners in boys and girls double events defeated their opponents in Syed Tajammul Abbas ITF Pakistan World Junior Ranking Tennis Championships here at Islamabad.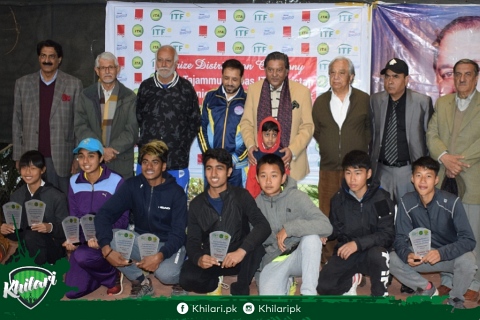 Syed Tajammul Abbas ITF Pakistan Junior Championship
S.Dilwar Abbas PTF Tennis Complex Garden Avenue Islamabad
Twenty players from ten countries USA, Great Britain, Canada, Hungary, Chinese Taipei, Hong Kong, India, Thailand and Turkey participated in the Championships.
The boys double's final was played between Muhammad Nauman AFTAB (PAK) / Mathew YEE (HKG) [4] and Rattanan SIRITAWORACHAN (THA) / Darrshan SURESH(MAS) [2] where Pakistani player Muhammad Nauman AFTAB with his partner showed marvellous performance as they defeated their second seed opponents in a two sets with a margin by 6-3, 6-1 .
Girls double's was played between Yu-Yun LI (TPE) / Mahin QURESHI (PAK) [1] and Semra AKSU (TUR) / Sedef BILGIC (TUR). Pakistani top seeded player Mahin QURESHI with her partner performed brilliantly as they defeated their opponents in a straight sets by 6-2, 6-1.
In boy's single Suresh Darrshan defeated Cheng Wei Chen and clinch the Boy's Singles title of Syed Tajammul Abbas ITF Pakistan. Cheng Wei Chen won the first set by 6-3 but in the second set Suresh change the pace of game and build up the winning lead by breaking 1st game of Wei Chen Chang. Suresh won the second set at 7-5. In the final set Suresh was in full command and did not allow his opponent to settle down throughout the match and won the final set by breaking 1st, 3rd and 6th game at the score of 6-1 and seals the Boy's Singles title of Syed Tajammul Abbas ITF Pakistan.
In Girls singles top seed player Yu-Yun LI from Taipei outplayed second seed Pakistani player Mahin QURESHI in a straight set by 6-3, 6-1 and seals the Girl's Singles title of Syed Tajammul Abbas ITF Pakistan.
Brig. Muhammad Khalid Sajjad Khokhar President Pakistan Hockey Federation and Patron Pakistan Tennis Federation graced the occasion as chief guest and distributed the prizes among the winner and runner-up. Senator Syed Dilawar Abbas Hon. Life Sr. Vice President Asian Tennis Federation, Mr. Kaleem Imamm IG Motorways and former President of PTF, Mr. Hamid-ul-Haq Captain Pakistan Davis Cup team and large number of tennis fans witness the final.
Following are the Results
| | | | |
| --- | --- | --- | --- |
| Muhammad Nauman AFTAB (PAK) &Mathew YEE (HKG) [4] | def | Rattanan SIRITAWORACHAN (THA) / Darrshan SURESH(MAS) [2] | 6-3,6-1 |
Girl's Doubles Quarter finals:
| | | | |
| --- | --- | --- | --- |
| Yu-Yun LI (TPE) & Mahin QURESHI (PAK) [1] | def | Semra AKSU (TUR) / Sedef BILGIC (TUR) | 6-2, 6-1 |
| | | | |
| --- | --- | --- | --- |
| Suresh Darrshan | def | Cheng Wei Chen | 6-3,7-5,6-1 |
| | | | |
| --- | --- | --- | --- |
| Yu-Yun LI | def | Mahin QURESHI | 6-3, 6-1 |