Huzaifa,Saqib crashed out of ITF junior ranking championship
Cheng Wei-Chen of Chinese Taipei to challenge second seed Malaysia's Suresh Darrshan in the boy's singles final of ITF Pakistan World Junior Ranking Tennis Championship at S.Dilawar Abbas PTF Tennis Complex, Islamabad.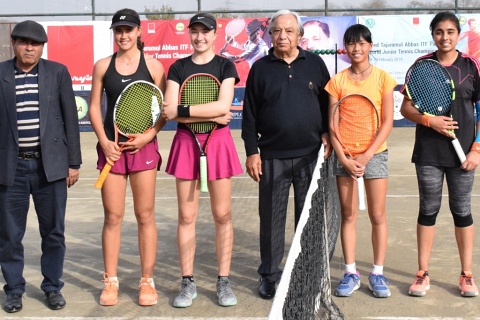 Syed Tajammul Abbas ITF Pakistan Junior Championship
S.Dilwar Abbas PTF Tennis Complex Garden Avenue Islamabad
Taipei's qualifier Cheng Wei-Chen overpowered Pakistan's Huzaifa Abdul Rehman in straight sets by 7-5, 6-1. Both the players displayed extraordinary show of tennis as the score was tied on 5-5 as both players held their serves but at that stage Wei Chen surpasses Huzaifa and won the first set by 7-5 by breaking 11th serve of Huzaifa. Wei Chen took completely dominated the second set as he won by 6-1 by breaking 3rd and 5th service of Huzaif.

In the second semifinal, second seed Malaysian Suresh Darrshan also defeated local player Saqib Hayat as last hope of Pakistan for the title is gone. Suresh outplayed Saqib in straight sets by 6-2, 6-3 to set his final against Taipei's Cheng Wei-Chen. Final of the singles event will be played on Saturday at 2:00 PM.

Maheen Aftab and Yu-Yun-Li through to the final of girls singles event after defeating their opponents in the semifinals in straight sets. Top seed Taipei's Yu-Yun outplayed Turkish player Aysegul Mert in a hard fought two set match by 7-5, 6-2.

The second semifinal was played between Pakistan's Maheen Aftab and Bilgic Sedef of Turkey where Maheen remained too good for Sedef as she defeated Turkish player by 6-3, 6-4 and cleared her way for the big final.

In the girls doubles event Maheen Qureshi and Taipei's Yu Yun-Li clinch the title after defeating Turkish pair of Aksu Semra and Bilgic Sedef by 6-2, 6-1.
Pair of Hong Kong's Mathew Yee/Muhammad Noman Aftab of Pakistan and Thai-Malaysian pair of Rattanan Siritaworchar/Suresh Darrshan are through to the final of Men's doubles event. Final of the doubles event will be played tomorrow at 11:00 AM.
Following are the results:
Boy's Singles Semi Finals
| | | | | |
| --- | --- | --- | --- | --- |
| 1 | Cheng Wei-Chen (TPE) | def. | Huzafia Abdul Rehman (PAK) | 7-5, 6-1 |
| 2 | Suresh Darrshan (MAS) | def. | Saqib Hayat (PAK) | 6-2, 6-3 |
Boy's Doubles Semi finals:
| | | | | |
| --- | --- | --- | --- | --- |
| 1 | Mathew Yee (HKG) & Muhammad Nouman Aftab (PAK) | def. | Chang Cameron Austin (USA) & Cheng Hsuni Lui (TPE) | 6-2, 6-1 |
| 2 | Rattanan Siritaworchar (THA) & Suresh Darrshan (MAS) | def. | Cheng Wei Chen (TPE) & Chou Wen Yi (TPE) | 7-6(4), 7-5 |
Girls Singles Semi Finals:
| | | | | |
| --- | --- | --- | --- | --- |
| 1 | Yu-Yun-Li (TPE) | def. | Mert Aysegul (TUR) | 7-5, 6-2 |
| 2 | Maheen Qureshi (PAK) | def. | Bilgic Sedef (TUR) | 6-3, 6-4 |
Girls Doubles Final:
| | | | | |
| --- | --- | --- | --- | --- |
| 1 | Maheen Qureshi (PAK) & Yu-Yun-Li (TPE) | def. | Aksu Semra (TUR) & Bilgic Sedef (TUR) | 6-2, 6-1 |