Army, WAPDA ahead in 36th National Boxing championship
Nine boxers from Army while 6 from WAPDA have qualifies for the finals in the ongoing 36th National Men's boxing championship at WAPDA ssports complex, Lahore.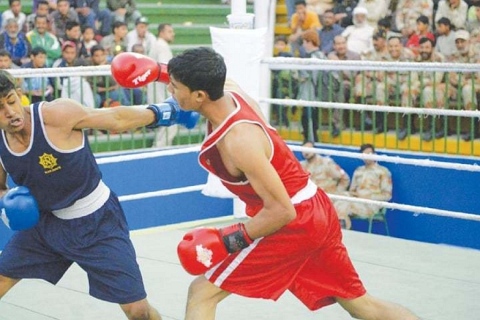 36th National Boxing Championship
WAPDA Sports complex
Meanwhile, two each boxers from Pakistan Air Force (PAF), Navy while one from Railways have reached to the finals as no knock out fight was seen on the day.

Navy's Daud Khan ousted Mohammad Naeem from Punjab in the semifinal of 49kg category while Mohibullah of WAPDA got the better of Mehroz Ali of PAF. Ameer Hamza from WAPDA thrashed AJK's Inamullah in the 52kg semifinal while Army's Mohammd Asif whacked Noor Ali from Railways. In 56kg semifinal, WAPDA's Naqeebullah defeated Amir Khan from Navy and Mohammad Raza from Army outplayed K-Electric's Afzal Rehman.

Ibrahim from Army crushed Balochistan's Mohibullah in the 60kg per-finals while WAPDA's international boxer Ali Ahmed surpassed 2010 Dhaka South Asian Games gold medalist Niamatullah of PAF. International boxer from Pakistan Army Sulaman Baloch edged past KPK's Amir Masood while PAF's Adnan Hassan beat WAPDA's Sardar Mohammad in the semifinal of 64kg category.

In the 69kg bout semifinal, Sindh's Faraz Ahmed got beaten by WAPDA's Amir Khan and Army's Gul Zeb edges past Ehsunallah from Punjab. Zulqairnain from Army overpowered PAF's Arshad Hussain and International boxer from Navy Tanveer Ahmed whacked Javed Akhter from Railways. PAF's Naseem Khan ousted Punjab's Hamza Butt while Pakistan's most experienced fighter and top ace from Pakistan Army, Awais Ali Khan defeated WAPDA's Naimatullah in 81kg semifinals.

Ghulam Shabbir from Railways overpowered FATA's Usman Ghani in 91kgs per-finals while Ahmed Ali from Army defeated experienced international player Mehmood ul Hasan from PAF. Mirwais from WAPDA outplayed PAF's Mir Azam ehile Army's Waqas Ahmed thrashed Hafeezullah from Punjab in +91kg bouts.

More than 130 pugilists from across the country are showing their worth in the event.