Railways dominates National boxing championship
Pakistan Railways dominates the ongoing 36th National boxing championship followed by WAPDA and Pakistan Army at WAPDA Sports complex, Lahore.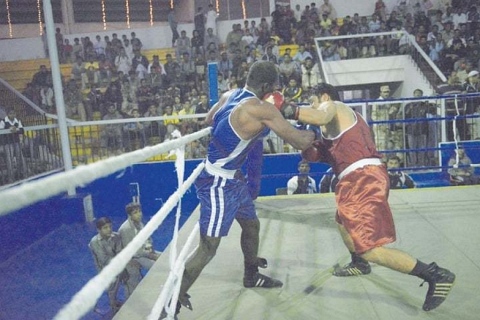 36th National Boxing Championship
WAPDA Sports complex
Twentyseven fights are decided yet in the men's category of 36th national boxing championship where Pakistan railways came upfront followed by WAPDA and Pakistan Army while the first edition of women boxing championship enters in the semifinal stage.

Semifinals of men event and final of women competition are staged today.
Pakistan Railway's Shah Muhammad defeated Awais Ullah from Police in 69kg fight.

In the 75 kg fights, Javed Akhtar from Railway outplayed FATA's Ali Hamza while Navy's Tanveer Ahmed outclassed Afzal Khan from Punjab and WAPDA's Jamal Nasir got beaten by Islamabad's Hashmat ullah Khan.
Noor Ullah from Railways came out victorious against Shahil zubair from AJK in the 81kg bout while WAPDA's Naimatullah outplayed Asmat Ullah from Police, Army's Awais Ali defeated Majid Ali from Navy, Ehsan Ullah from K-Elctric banged Abdul Qayyum from FATA and Naeem Khan from Pakistan Air Force ousted Shahid khan from KPK.

Sanaullah from WAPDA won his fight against Bilal Khan of K-electric in the 91kg category while Army's Ahmed Ali defeated Tariq Nawaz from Navy, Mehmood ul Hasan of Pakistan Air Force ousted Balochistan's Shabbir Ahmed and Muhammad Amin from Police defeated Punjab Zulqarnain.