SSB Sindh-Balochistan Friendly Men And Women Boxing Series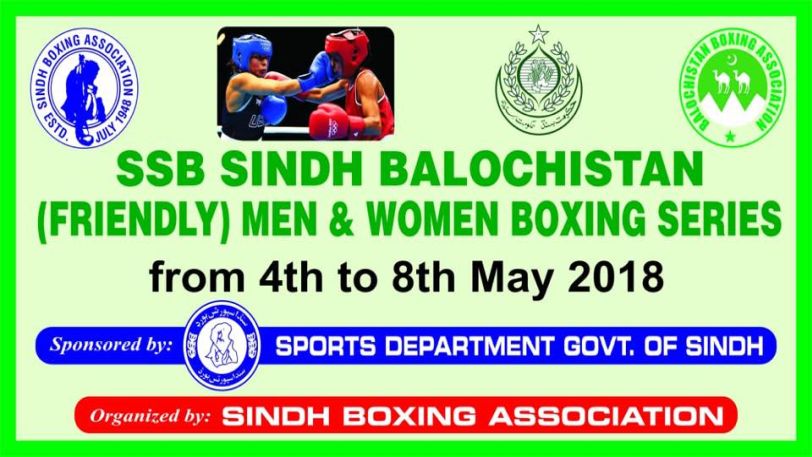 The Sindh Boxing Association is organizing the Sindh-Balochistan Boxing Series from 4th to 8th May at different venues of the city. The event is being held for the first time aimed at providing an opportunity to the players of the two provinces to compete against each other. The Boys will compete in 42, 44, 46,48,50,52 kg boxing bout while the Girls will fight in 36, 38, 40, 42, 44, 46 Kg.
The Sindh Boxing Association (SBA) has announced a 34-member squad including seven women for the four-day Sindh-Balochistan boxing series which gets into action on 4th May at Kakri Ground Karachi while the strong 33-member Balochistan boxing contingent comprises men, junior and women pugilists that will participate in the inaugural Sindh-Balochistan Boxing Series starting at different venues of the city.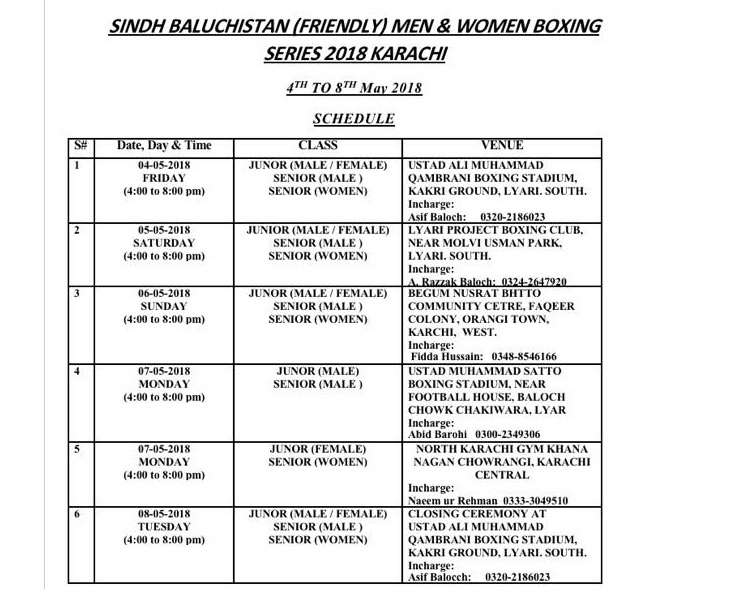 Men:
Shehroz Kachi, Bilal (light flyweight), Badshah Khan, Ahmed Afridi (flyweight), Mohammad Naseeb, Noman (bantamweight), Aqib Ali, Jalil Ahmed (lightweight), Hamdan Hussain, Ehsanullah (light welterweight), Umer Khan, Zubair Khan (welterweight), Salahuddin, Ehsan Khan (middleweight), Saddam Hussain, Khalil Haider (light heavyweight), Tahir Ayub, Abdul Khalid (heavyweight) , Yasir Jamil, Faizullah (super heavyweight).
Juniors:
Khalid Raza (40kg), Faizan Raza (42kg), Tabish (44kg), Shahbaz Jan (46kg), Hamdan (48kg), Sajid Rasheed (50kg) and Jameel Kachi (52kg).
Women:
Guljabeen (light flyweight), Maria (flyweight), Mehreen (Bantamweight), Husan Bano (lightweight), Shazia (light welterweight), Sara (welterweight) and Mariam (middleweight).
Officials:
Abdul Sattar, Khawar Din, Abdul Khaliq, Mohammad Amin, Mohammad Moosa Qambrani and Raheem Jan (coaches), Abdul Razzak Baloch (coordinator).
Jury:
Malang Baloch, Siddiq Qambrani and Habibullah Jafri
May 4:
Opening ceremony at Ali Mohammad Qambrani Stadium, Kakri Ground.
May 5:
Bouts at Lyari project boxing club near Usman Park, district South.
May 6:
Bouts at Begum Nusrat Bhutto Community Hall, Faqir Colony, Orangi Town, District West.
May 7:
Bouts at Ustad Mohammad Satto Boxing Stadium, North Karachi Gymkhana Near Nagan Chowrangi (women); Mauipur National Boxing Club, Hawkesbay Road (juniors).
May 8:
Closing ceremony at Ali Mohammad Qambrani Stadium, Kakri Ground.