Pakistan Day Archery Championship 2021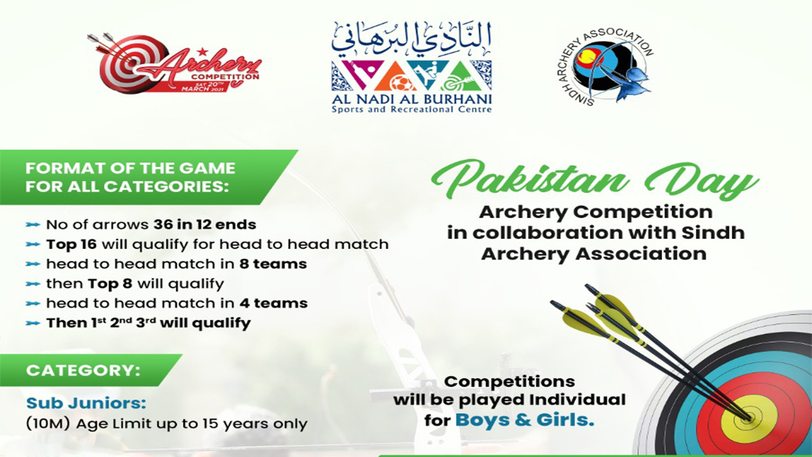 Al Nadi Al-Burhani Sports and Recreational Center under the supervision of Sindh Archery Association will organize the Pakistan Day Archery Championship 2021 to celebrate "Pakistan Day" at Nadi Al-Burhani Academy on 20th March.
In this regard, Secretary Sindh Archery Association Mansoor Shehzad has announced that on the occasion of Pakistan Day, Pakistan Day Archery competitions will be held on Saturday, March 20 at Al-Nadi Al-Burhani Academy, Queens Road for which registration of archers are underway.
Registration Link for the event:
https://alnadialburhani.com/main-events/pakistan-day-archery-competition/
More than 200 junior and senior archers of Shar-e-Quaid are expected to participate in the event, in which boys and girls will also be able to participate in individual competitions.
He said that all the juniors, juniors and seniors will take part in the event which will continue from noon to night with archery competitions of 10, 18 and 30 meters.
The archers who make it to the top 16 will make it to the head-to-head match, while the head-to-head match will feature 8T.
For the event, each archer will bring their own bow and arrow, while for the first time, the performance of archers will be tested through a computerized scoring system.
Competitions for juniors and sub-juniors will start at 2:00 pm while competitions for seniors will start at 5:30 pm.