Asim Qureshi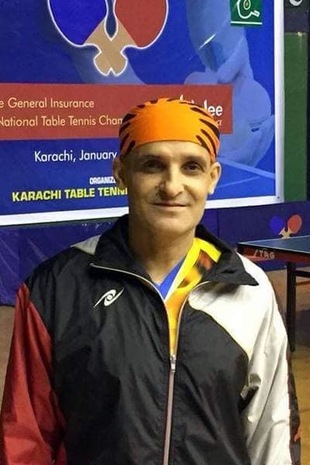 Achievements
Asim Qureshi came into Table Tennis limelight by winning Men's Singles title in Nationals in 1993 in Multan against Waseem Shehzad playing for ABL.
After that Asim Qureshi won Nationals again in 2002, 2012, 2013, 2015.
Then in 2018 Asim Qureshi won his 6th National Men's singles title by beating Muhammad Rameez Khan who was second seeded and last years runners up. This victory came in Jubilee General Insurance 54th National Table Tennis Championship held in Islamia Indoor gymnasium, Karachi.
Asim Qureshi also won his triple crown in this tournament by winning team event for WAPDA, Mixed Doubles and singles.
Asim Qureshi played in 11 Nationals Finals in Men's Singles category and won 6 times.
Asim Qureshi in his career so far has won for ABL, UBL, ABL & WAPDA -1993 to 1995 for ABL, 1996 to 1999 for UBL, 2000 to 2007 back to ABL and WAPDA since 2008.
Asim Qureshi has won 53 Gold medals in Nationals all events.
Asim Qureshi has also won 4 times National games Men's Single title.
14 Gold in National games all event.
30+ All Pakistan Master cup winner.
9th position in Asia Cup in India 1996.
Gold in 4th Division WTTC 2016 in Kuala Lumpur, Played 14 WTTC.
Represented Pakistan more than 50 times in International tournaments .
14 Medals in SAF games.
+60 times Gold medalist on domestic level.
25 Times All Pakistan MasterCup Champion.
+25 Times Pakistan trials winner.
Asim Qureshi's Profile
Age (Years): 57
Sport: Table Tennis
City: Lahore
Weight(Kgs): 60
Biography:
In a country where the most popular sports are cricket and hockey, Qureshi picked up the racket at the age of 14 and never looked back.
He became a top-class national-level player at the age of 16 and since then has represented Pakistan in two editions of the Commonwealth Games, 16 World Table Tennis Championships and 55 international tournaments. He is one of the oldest athletes at the 2018 Asian Games.
Qureshi, works for the electricity division of the Water & Power Development Authority (WAPDA) in Pakistan. To promote table tennis game all over the Pakistan on Professional level he is ruining his own academy where everyone having passion for table Tennis will be getting the opportunity to take table tennis training under the supervision of Asim Qureshi himself.
He has bagged seven silver medals and eight bronze medals in the South Asian Federation (SAF) Games, the top sporting event in the Indian subcontinent. Qureshi, who is currently the oldest active player in the international table tennis arena, has not only defied age, but also kept his burning desire to compete at the international level even after turning 50.
The evergreen man with his trademark bandana is still the national champion in his country. Although he made his Asian Games debut in Incheon in 2014, the top Pakistani player has been the torchbearer of the sport in his country for a long time. Playing his second Asian Games in Jakarta, he lost his Round of 32 singles match to India's Achanta Sharath Kamal, who is 20 years younger.