Danish Atlas Khan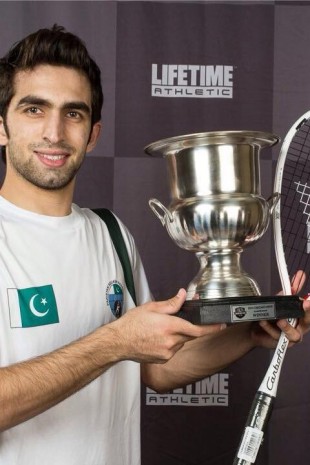 Achievements
First PSA World Tour title at the Persian Gulf Cup in 2011 and followed that up with two more consecutive titles.
Reclaimed the Persian Gulf Cup title that win contributed to his elevation into the world's top 70 players.
He secured his fifth title at the First Insurance Squash Open in October 2013.
Winner of Pakistan International Squash Circuit II in 2014.
Khan had a successful end to 2015 though with victory in the Chicago Open.
Youngest ever Asian Games Gold Medalist athlete in history at the age of 16.
Danish Atlas Khan's Profile
Age (Years): 27
Sport: Squash
City: Peshawar
Weight(Kgs): 68
Teams:
Pakistan squash (National Team)
Biography:
Pakistan top squash player Danish Atlas Khan belongs to squash champions family as he is a son of legendary former World Team Squash Champion Mr. Atlas Khan and nephew of former 8 time world squash champion Mr. Jansher Khan.

Danish Atlas Khan is former Pakistan #1 squash player and youngest ever Asian Games Gold Medalist athlete in history at the age of 16 and he has outstanding services for Pakistan in the field of squash.
He has started playing squash at the age of 6, he has served Pakistan squash internationally for last 17 years.
Danish gets coaching from his father Mr. Atlas Khan and brother Khalid Atlas Khan.
He has represented Pakistan in 20 countries USA, England, Canada, Switzerland, France, China, India etc.
He has won 34 Gold Medals, 19 Silver Medals, 15 Bronze Medals in National and International tournaments during his vocation yet.
He also won well-recognized international awards as well as Prime Minister of Islamic Republic of Pakistan awarded a certificate of Recognition to Mr. Danish Atlas Khan for projecting the image of the country by winning 2 Gold Medals in Qatar for Pakistan in 2005.
He also awarded with Outstanding Asian Junior Man Player of the Year award in Asia by Asian Squash Federation in 2012.