Saad Shah Bukhari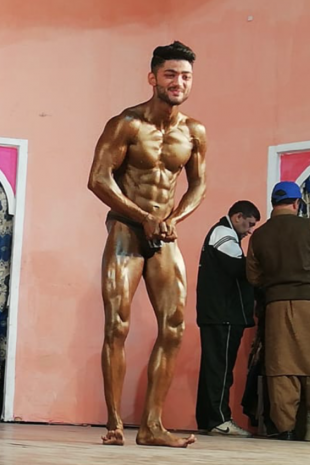 Achievements
• 2 times National Champion

2019:
• Silver medalist at 67th Mr. Pakistan 2019.
• Silver medalist at Jr. Mr. Punjab 2019.
• Silver medalist at Mr. Pakistan men physique 2019.
• Participated in Mr. Punjab Olympia 2019
• Participated in Punjab Games 2019
2018:
• Silver medalist at 66th Mr. Pakistan 2018

2017:
• Mr. Lahore & Lahore Division champion 2017
• Silver medal in Punjab Olympics 2017

2014:
• Bronze medalist in Athletics at GCU 2014

Saad Shah Bukhari's Profile
Age (Years): 25
Sport: Body Building
City: Lahore
Weight(Kgs): 64
Clubs:
Gymnology
Teams:
Team HEC
Punjab Province
Lahore Division
Lahore District
Biography:
National Bodybuilding Champion, Saad belongs from Lahore which is one of Pakistan's wealthiest cities.

Saad has completed his studies from College of Earth and Environmental Sciences, Punjab University in environmental sciences.
Saad loves travelling.