NAB officers show sports skills in Inter-Wing Cricket Tournament
NAB Lahore has organized an Inter-Wing Cricket Tournament among teams of all Investigation and Prosecution Wings.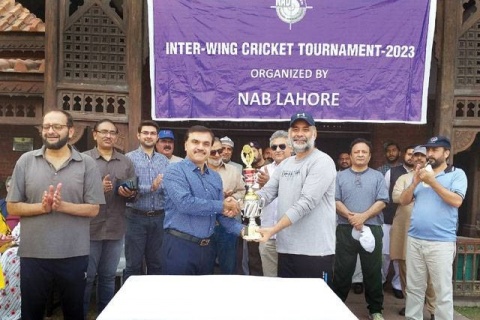 NAB Lahore has organisedan Inter-Wing Cricket Tournament among teams of all Investigation and Prosecution Wings.
The single-day knockout tournament was held at Lahore Gymkhana Club, which was graced by Director General (DG) NAB Lahore Amjad Majeed Aulakh as chief guest. The cricket tournament was organized to promote healthy activities among regional Bureau officers. Players eleven of Investigation Wing-II and Prosecution Wing breezed into the final, however, team Yellow (Investigation Wing-II) clinched the winning trophy by beating Prosecution Wing's team (Blue).
Talking to the officers of all playing elevens, DG NAB Lahore Amjad Majeed Aulakh said that the sports activity was organized to provide healthy physical activity for NAB officers, who discharge their duties in a hectic schedule, in routine. Although, the officers have performed above his expectation, which is exceedingly admirable, he said.
At the prize distribution ceremony, the DG NAB Lahore handed over the winning trophy to IW-II team captain Zahid Iqbal and runner-up trophy to Deputy Prosecutor General Accountability (DPGA), Syed Waqar Hussain Naqvi.
Amjad Majeed Aulakh also announced to host mega-tournament among teams representing all law enforcement agencies including NAB. He said that it was an exclusive tournament played among NAB Lahore officers under the supervision of Awareness and Prevention (A&P) Wing of the Regional Bureau. At the end, a pictorial session was held with all the teams playing and DG NAB-L.
NAB-L's A&P Wing coordinates numerous competitions i.e. speech, painting & poster competition, essay writing and short-drama competitions among School, College and University level students in Punjab, on the eve of international anti-corruption day, which is being celebrated on 9th December, every year.