First outdoor table-tennis tables inaugurated at Bagh-e-Jinnah Park Lahore
The first outdoor table-tennis tables were successfully inaugurated at the Bagh-e-Jinnah Park, Lahore.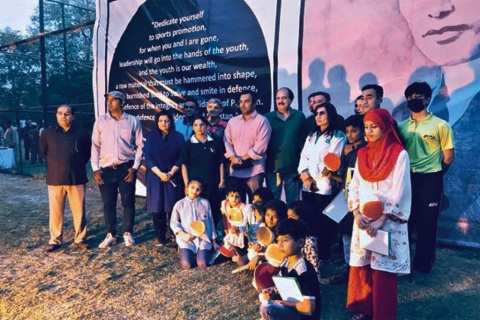 Punjab Horticulture Authority (PHA) under the supervision of Punjab Table Tennis Association (PTTA) has successfully inaugurated the first outdoor table-tennis tables at the Bagh-e-Jinnah Park, Lahore
"The purpose of inaugurating the first outdoor table-tennis tables at this historical place – Bagh-e-Jinnah – in the name of founder of Pakistan Quaid-e-Azam Muhammad Ali Jinnah is that we want to inspire our youth towards sports under the vision of Quaid-e-Azam and Prime Minister Imran Khan. PTTA President IrfanUllah said.
"These outdoor tables will support us finding new talent of table tennis, which will be coached and prepared under our skilful and certified coaches. We will also try to conduct good amount of events so that our players may remain busy in healthful activities and win laurels for their province as well as for their country at higher level," he added.
The event had the presence of PHA Chairman Yasir Gillani, Director General Jawad Ahmad Qureshi, PTTA President Irfan Ullah Khan, Maryam Mahmood, Asma Chishti, Masood, AsimQureshi, Shabnam Bilal, Bilal Yasin, Kashif Razzaq, Sana Nousheen and Sana Ch.