Arham bin Farrukh claims Pakistan Educational Development Association Kashmir Day Table Tennis Tournament 2021 title
9-years-old Arham Bin Farrukh claimed the top spot of the championship after showcasing his great table tennis skills at Pakistan Educational development Association Kashmir Day Table Tennis Tournament 2021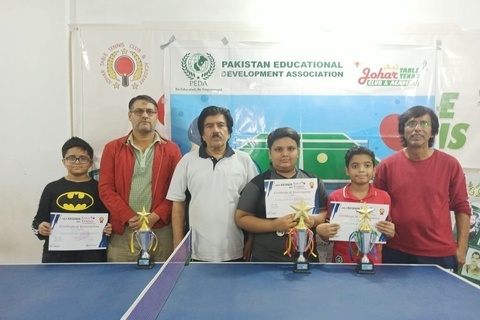 Johar Table Tennis Club organized the first Pakistan Educational development Association Kashmir Day Table Tennis Tournament 2021 to mark the Kashmir solidarity day, which concluded successfully at club's premises.

9-years-old Arham Bin Farrukh who made Pakistan proud because of his video clip selected by International Table Tennis Federation on the occasion of World Table Tennis Day Celebration 2020, claimed the top spot of the championship after showcasing his great table tennis skills.
It is pertinent to mention here, in 2019 Karachi born Arham along with his father Farrukh won the award by having a unique idea to play table tennis at the dining table.

Ali rizvi, Sameer Pasha and Ruhaim khan bagged 2nd, 3rd and 4th places respectively.

The tournament played on single league basis.

President Johar Foundation Dr Arshad masood graced the ceremony as a chief guest.He has announced that johar foundation will organize another tournament on 13th februray. In memory of Legendary Majeed khan.
Results:

| Player | vs | Player | Scoreline |
| --- | --- | --- | --- |
| Ali rizvi | def | Sameer pasha | 12-10, 13-11 |
| Arham bin farrukh | def | Ruhaim khan | 11-2,11-3 |
| Sameer pasha | def | Ruhaim khan | 11-7, 10-12,12-10 |
| Arham bin farrukh | def | Ali rizvi | 11-3,11-2 |
| Ali rizvi | def | Rohaim | 11-4,11-5 |
| Arham bin farrukh | def | Sameer pasha | 11-0,11-3 |