Zohaib stars in KP's comfortable win
Superb all-round performance from Zohaib Khan and fine batting from skipper Ahmed Shehzad enabled truncated Khyber Pakhtunkhwa to overwhelm Balochistan by 74 runs to stay alive in the Pakistan Cup 2016 at Iqbal Stadium, Faisalabad, on Sunday.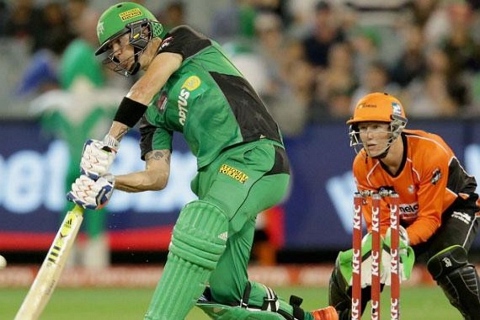 Superb all-round performance from Zohaib Khan and fine batting from skipper Ahmed Shehzad enabled truncated Khyber Pakhtunkhwa to overwhelm Balochistan by 74 runs to stay alive in the Pakistan Cup 2016 at Iqbal Stadium, Faisalabad, on Sunday.
This was the second win for KP in three matches. Balochistan lost their second game in three appearances.
Zohaib (82) and Shehzad (79) struck their second consecutive fifties to guide KP to 246-8 in the stipulated 50 overs day-night game.
Zohaib then claimed 4-18 in 9.1 overs to dismiss Balochistan for 172 in 45.1 overs.
After deciding to bat first when Ahmed Shehzad won the toss, Khyber Pakhtunkhwa had a poor start as lanky Test pacer Umar Gul had the solid left-handed opener Fakhar Zaman (5) caught by Umar Akmal in the third over of the innings.
Rameez Aziz (10) also failed to assist his skipper when he fell prey to Bilawal Bhatti, held by Saeed Ajmal at short fine-leg. Rameez struck two fours from 17 deliveries. KP were 44-2 in 8.5 overs.
Zohaib and Shehzad (79) shared 75 for the third wicket. Skipper Azhar Ali took the prized scalp of Shehzad who was held at short fine-leg while attempting a sweep shot.
Shehzad, who hit left-arm spinner Mohammad Nawaz for a glorious four to complete his fifty off 51 balls, smacked ten fours in his knock.
Gul removed Faheem Ashraf (12), who attempted to pull a short-pitched delivery but the ball ended in the hands of Shahid Yousuf in the deep. Faheem hit one four from 24 balls. KP were 144-4 in 30.5 overs.
Bismillah Khan (20) provided good assistance to Zohaib but he also failed to handle a short-pitched delivery from Bilawal Bhatti and Babar Azam held an excellent catch at square-leg. Bismillah struck one four from 23 balls and KP were 177-5.
Off-spinner Saeed Ajmal had Musaddiq (13) caught by Umar Akmal, who covered a lot of distance in the deep. Musaddiq faced 21 balls.
Yasir Shah (15*) and Zohaib made good effort to inflate their total.
In the final over, Sohail Tanvir had Zohaib and Sameen Gul to restrict KP to 246-8.
Zohaib, who reached his fifty from 79 balls, smashed just four fours from 112 balls. Gul (2-34), Bilawal Bhatti (2-35) and Sohail Tanvir (2-55) bowled well.
Azhar (27) and Babar Azam (50) provided a solid 53-run opening stand to Balochistan before left-arm spinner Mohammad Asghar dismissed the Pakistan ODI skipper, caught by Rameez Aziz, in the 12th over. Azhar hit two fours from 37 deliveries.
The rest of the batting line failed to capitalise on the fine start and wickets kept falling at regular intervals with Babar sticking firm at one end.
Left-arm spinner Zohaib dismissed Mohammad Hasan (13) before Pakistan's top leg-spinner Yasir Shah removed Umar Akmal (0) and Mohammad Nawaz (13) in quick succession to leave Balochistan reeling at 101-4 in 23.2 overs. Nawaz hit one four from 29 balls.
Left-arm medium pacer Zia-ul-Haq dislodged senior campaigner Shahid Yousuf (3) and all-rounder Sohail Tanvir (8) to leave Balochistan gasping at 116-6 in the 29th over.
In the next over, Zohaib got Babar to end Balochistan's hopes. Babar wanted to cut the short delivery from Zohaib, but failed to beat Yasir who held it nicely at point.
Babar hammered six fours in his 67-ball fifty. Zohaib removed Bilawal Bhatti (111)) before part-time bowler Fakhar Zaman had Ghulam Haider (11) to leave Balochistan at 135-9.
Umar Gul (16) and Saeed Ajmal (23) entertained the fans before Zohaib had the former caught at first slip by Shehzad. Gul struck two fours from 36 balls. Ajmal smashed two fours and a six off Yasir Shah in his unbeaten 17-ball knock.
Zohaib was ably backed by Yasir (2-50) and Zia-ul-Haq (2-35).
KP made three changes to the side that had beaten Punjab by two runs. Musaddiq Ahmed, Sameen Gul and Mohammad Asghar were brought in place of Younis Khan, unfit Rahat Ali and Hayatullah. Younis left the team on Saturday after a row with umpires during their previous match.
Balochistan brought Bilawal Bhatti in place of Test seamer Junaid Khan.
Rashid Riaz and Shozab Raza supervised the match. Riazuddin was the television umpire, Sajid Afridi the reserve umpire and Musaddiq Rasool the match referee.
Punjab face Islamabad on Monday (today). Punjab, led by Shoaib Malik, have lost two matches, while Islamabad have one win from two outings.
Score Board
Khyber Pakhtunkhwa won toss
Khyber Pakhtunkhwa
Fakhar Zaman c U Akmal b U Gul 5
*Ahmed Shehzad c Bilawal b Azhar 79
Rameez Aziz c Saeed b Bilawal 10
Zohaib Khan c Babar b Sohail 82
Fahim Ashraf c Shahid b U Gul 12
†Bismillah Khan c Babar b Bilawal 20
Musadiq Ahmed c U Akmal b Saeed 13
Yasir Shah not out 17
Sameen Gul c sub (Rameez (2)) b Sohail 0
Zia-ul-Haq not out 0
Extras (lb 2, w 6) 8
Total (8 wickets; 50 overs) 246
Did not bat: M Asghar
Fall: 1-8, 2-44, 3-119, 4-144, 5-177, 6-207, 7-241, 8-244
Bowling: U Gul 6-0-34-2 (1w); Sohail 9-0-55-2 (2w); Bilawal 9-0-35-2 (1w); Saeed 8-0-34-1 (1w); Nawaz (3) 10-0-39-0 (1w); Azhar 8-0-47-1
Balochistan
*Azhar Ali c Rameez b Asghar 27
Babar Azam c Yasir b Zohaib 50
†M Hasan c Fakhar b Zohaib 13
Umar Akmal c Ahmed b Yasir 0
M Nawaz (3) lbw b Yasir 13
Shahid Yousuf c Yasir b Zia 3
Sohail Tanvir c Bismillah b Zia 8
Ghulam Haider c Ahmed b Fakhar 11
Bilawal Bhatti c Bismillah b Zohaib 1
Umar Gul c Ahmed b Zohaib 16
Saeed Ajmal not out 23
Extras (lb 1, w 5, nb 1) 7
Total (all out; 45.1 overs) 172
Fall: 1-53, 2-80, 3-81, 4-101, 5-106, 6-116, 7-122, 8-126, 9-135, 10-172
Bowling: Zia 8-0-35-2 (2w); Sameen 6-0-25-0 (1nb); Asghar 10-1-31-1; Zohaib 9.1-3-18-4 (1w); Yasir 9-0-50-2 (1w); Fakhar 2-0-4-1; Fahim 1-0-8-0 (1w)
Result: Khyber Pakhtunkhwa won by 74 runs
Man of the Match: Zohaib Khan (Khyber Pakhtunkhwa)
Umpires: Rashid Riaz and Shozab Raza. TV umpire: Riazuddin. Match referee: Mussadaq Rasool.
(Source: The News)