Rahat four-for helps KP clinch thriller
Test pacer Rahat Ali bowled a fine last over to enable Khyber Pakhtunkhwa to snatch a two-run victory from the jaws of Punjab in their second game of the Pakistan Cup 2016 at Iqbal Stadium, Faisalabad, on Friday.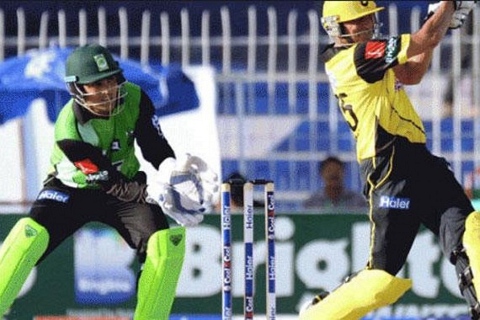 Test pacer Rahat Ali bowled a fine last over to enable Khyber Pakhtunkhwa to snatch a two-run victory from the jaws of Punjab in their second game of the Pakistan Cup 2016 at Iqbal Stadium, Faisalabad, on Friday.
Rahat picked 4-42 from ten overs to restrict Punjab to 260-7 while chasing 263.
Salman Butt struck fine 77 for Punjab. Earlier, Fakhar Zaman (64), Ahmed Shehzad (57) and Zohaib Khan (51*) struck fine fifties to guide KP to 262-6 in the allotted 50 overs.
Punjab needed nine runs from the last over and three off the last delivery, but Rahat managed to beat Aamer Yamin (1*).
After Younis Khan won the toss and opted to bat first, Pakistan's experienced opener Ahmed Shehzad (57) and left-handed Fakhar Zaman (64) provided a solid 88-run opening stand to Khyber Pakhtunkhwa.
Shehzad played delightful strokes towards all corners of the ground to complete his smart fifty which came off just 40 balls.
Left-arm international spinner Zulfiqar Babar gave a breakthrough to Punjab when he clean bowled Shehzad off the last ball of the 14th over.
Shehzad went for a sweep shot to a delivery that pitched on the middle and off and kept straight, the right-hander missing it completely.
Shehzad hammered three glorious sixes and six fours in his 52-ball exquisite innings.
Younis joined Fakhar but he was unlucky to be given run out while taking a single. His run-out came in a bizarre fashion through a referral which showed that both his right leg and bat were well inside the crease but the time when Shoaib Malik's throw hit the stumps both his bat and leg were in the air. KP were 93-2 at that stage.
Left-handers Fakhar and Rameez Aziz (35) added 50 for the third wicket. Fakhar was bowled by medium pacer Aamer Yamin after he had scored a spectacular half century. Fakhar, whose fifty came off 52 balls, smacked six fours and a six from 71 deliveries.
Zulfiqar removed Rameez, stumped by Mohammad Rizwan, after he had hit three fours in his patient 60-ball knock.
After Test pacer Ehsan Adil sent Faheem Ashraf (14) back, Zohaib Khan (51*) and Bismillah Khan (33) shared 62 for the sixth wicket to take KP to a fighting total.
Zohaib hammered three fours and a six from 53 deliveries.
Quetta-born Bismillah, who fell in the last over, smashed four fours from 32 deliveries.
KP scored 70 runs in the last ten overs. Aamer (2-54) and Zulfiqar (2-62) took two wickets each. Chasing a stiff target, Punjab had a fine start with Salman Butt and under-19 player Saif Badar playing effectively.
Test pacer Rahat Ali gave a breakthrough to KP when he had Badar caught by keeper Bismillah.
Sialkot-born Badar, who was picked in place of Test opener Shan Masood, struck three fours in his 18-ball 19 and scored 42 for the opening stand with Salman.
Asad Shafiq (47) and Salman played sensibly and added 107 for the second wicket before Asad was undone by Rahat Ali, caught by Fakhar Zaman.
Punjab were 149-2 in 29.2 overs. Asad, who nicely picked the gaps during his solid knock, clobbered four fours from 61 balls.
Younis brought left-arm pacer Zia-ul-Haq into the attack and he picked up the prized scalp of Salman, who hit a short-pitched delivery straight to Fakhar at short mid-wicket. Salman smacked eight fours in his 77 which came off 114 balls.
Mohammad Rizwan (47) and Shoaib Malik (41) added 75 runs for the fourth wicket before left-arm spinner Zohaib Khan (1-46) caught Malik off his own bowling.
Malik struck two fours and a six in his 51-ball knock. Punjab were 242-4, needing 21 off 20 balls. Rahat had Rizwan (47) before Saad Nasim (5) got run out while taking an unnecessary single, leaving Punjab at 251-6.
Rizwan hit three fours from 40 balls. Punjab needed 12 from two overs. Zia conceded three runs in the second last over to leave nine runs for Rahat to defend in the final over.
Rahat had Akbar-ur-Rehman (7) caught by Ahmed Shehzad at long on in the last over and finished with 4-42 from ten overs.
Riazuddin and Mohammad Sajid Afridi supervised the match. Shozab Raza was the television umpire, Aziz-ur-Rehman the match referee and Rashid Riaz the reserve umpire. Sindh face Islamabad on Saturday (today) at the same venue.
Score Board
Khyber Pakhtunkhwa won toss
Khyber Pakhtunkhwa
Fakhar Zaman b Aamer 64
Ahmed Shehzad b Zulfiqar 57
*Younis Khan run out 2
Rameez Aziz st Rizwan b Zulfiqar 35
Zohaib Khan not out 51
Fahim Ashraf c Rizwan b Ehsan 14
†Bismillah Khan c Akbar b Aamer 33
Yasir Shah not out 0
Extras (lb 5, w 1) 6
Total (6 wickets; 50 overs) 262
Did not bat: Zia-ul-Haq, Hayatullah, Rahat Ali
Fall: 1-88, 2-93, 3-143, 4-170, 5-192, 6-254
Bowling: Ehsan 10-1-57-1; Aamer 10-0-54-2; Zulfiqar 10-1-62-2; Amad 10-0-43-0 (1w); Shoaib 10-0-41-0
Punjab
Salman Butt c Fakhar b Zia 77
Saif Badar c Bismillah b Rahat 19
Asad Shafiq c Fakhar b Rahat 47
*Shoaib Malik c & b Zohaib 41
†M Rizwan c Bismillah b Rahat 47
Saad Nasim run out 5
Akbar-ur-Rehman c Ahmed b Rahat 7
Aamer Yamin not out 1
Amad Butt not out 0
Extras (b 4, lb 1, w 11) 16
Total (7 wickets; 50 overs) 260
Did not bat: Zulfiqar Babar, Ehsan Adil
Fall: 1-42, 2-149, 3-166, 4-242, 5-251, 6-251, 7-260
Bowling: Zia 8-0-39-1 (2w); Fahim 4-0-32-0; Rahat 10-1-42-4 (2w); Zohaib 10-0-46-1 (3w); Yasir 10-0-47-0; Hayatullah 5-0-36-0; Fakhar 3-0-13-0
Result: Khyber Pakhtunkhwa won by 2 runs
List A debut: Hayatullah (Khyber Pakhtunkhwa)
Umpires: M Sajid and Riazuddin. TV umpire: Shozab Raza. Match referee: Aziz-ur-Rehman.

(Source: The News)