Country's first-ever online Volleyball coaching course begins today
Chairman Pakistan Volleyball Federation, Chaudary Muhammad Yaqoob will inaugurate the country`s first online Volleyball coaching course today.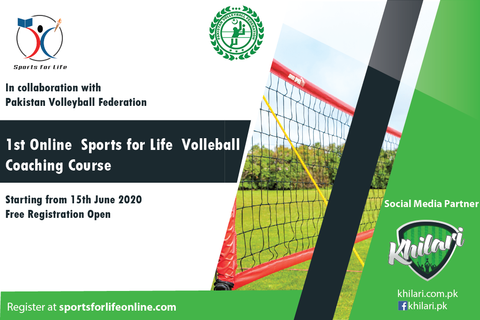 The country's first online Volleyball coaching course will commence today 15th June. It will be inaugurated by Chaudary Muhammad Yaqoob, Chairman Pakistan Volleyball Federation.
The course has been organized by Sports For Life in collaboration with the Pakistan Volleyball Federation and Khialri.pk. More than 600 coaches and players have registered from all over Pakistan and abroad for the course.
Speaking on the occasion, General Secretary, Pakistan Volleyball Federation, Engr Shah Naeem Zafar said it is great to see enthusiasts and sportspersons taking a keen interest in online sports courses and lessons which is a healthy sign.
`It will help in promotion of volleyball as a sport and will Insha Allah produce new talent, he said.
Shezad Kazi, CEO, Sports for Life, said that after the success of our online basketball course. It is a remarkable achievement that many previous course participants are also taking part in this online volleyball course. Players and coaches from many services departments like WAPDA, Army, Air Force and Navy are taking also part in the course.
"Sports for Life" is accepting applications through its email address [email protected] or through its online form on its website www.sportsforlifeonline.com or through its WhatsApp number +923362282595.
Asad Ibad Ali is the Event Incharge and ShafiaArshad Ali is the coordinator of the event. Chaudary Iftikhar is the Patron of the Event. He hoped that more and more sportspersons register so that it will help promote the game in the country.
Shahid Masood, General Secretary, Sindh Volleyball Association, FIVB qualified coach Muhammad Saeed Ahmed Khan, Shahbaz Bajwa and Iranian coach Hamid Movahidi is conducting the course.
After the sessions, an online MCQ test will be taken to verify if the participants have understood the main points of the course or not. Certificates will be provided online to the participants after the course.