PCB-PEPSI National U16 Three-Day tournament continues
Day two of the National U16 Three Day Tournament came to and end with Northern U16 in command against Central Punjab U16 in Islamabad and Khyber Pakhtunkhwa U16 dominating Southern Punjab U16 at Iqbal Stadium, Faisalabad.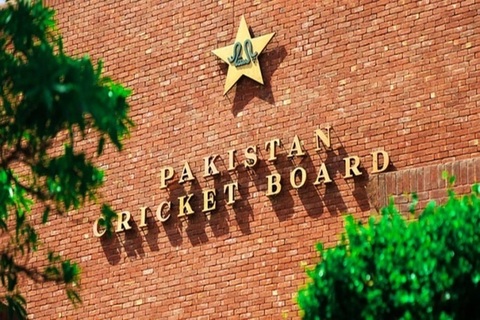 PCB-PEPSI National U-16 Three Day Tournament 2019/20
Iqbal Stadium, Shalimar Ground, KRL Stadium.
Northern U16 v Central Punjab U16, Shalimar Cricket Ground, Islamabad
Mohammad Hasnain Sabir took four wickets for 78, as Central Punjab were dismissed for 198 against Northern at Shalimar Cricket Ground in Islamabad on day-two of the first round of the PCB-PEPSI National U16 Three-Day tournament matches on Tuesday.
Resuming their innings on 26 for four, Central Punjab were bowled out in the 78th over. Azlan Awais top-scored for his side with 60 off 205 balls.
In return, Northern in their second innings were 60 for four in 25 overs when stumps were drawn enjoying a healthy lead of 113 runs.
Khyber Pakhtunkhwa U16 v Southern Punjab U16, Iqbal Stadium, Faisalabad
At Iqbal Stadium in Faisalabad, Southern Punjab resuming their innings on 83 for four were dismissed for 151 in 64 overs.
Mohammad Shehzad top-scored with a 135-ball 67.
For Khyber Pakhtunkhwa, Mohammad Irfan and Mohammad Tahir took three wickets apiece.
In return, Khyber Pakhtunkhwa in their second innings were 202 for two when stump were drawn.
Abbas Ali (63 not out) and Haseeb Khan (47 not out) contributed an unbeaten 108-run partnership for the third wicket. Mohammad Farooq also contributed 63 off 69 balls, hitting nine fours and a six.
Northern U16 v Central Punjab U16:
Northern 251-7, 80 overs (Shamyl Husain 52, Aamir Hasan 48 not out; Arham Nawab 3-80) and 60-4, 25 overs (Muneeb Wasif 2-29)
Central Punjab 198 all out, 78 overs (Azlan Awais 60, Ibrar Afzaal 37, Rafay Rana 34; Mohammad Hasnain Sabir 4-78, Atif Khan 3-30)
Khyber Pakhtunkhwa U16 v Southern Punjab U16:
Khyber Pakhtunkhwa 161 all out, 45 overs (Abbas Ali 56; Bilal Ahmad 4-42, Mohammad Shehzad 3-58) and 202-2 (Abbas Ali 63 not out, Mohammad Farooq 63, Haseeb Khan 47 not out)
Southern Punjab 151 all out, 64 overs (Mohammad Shehzad 67; Mohammad Tahir 3-11, Mohammad