Final of the Karachi Masters League season 2 to be contested tonight
Haseen Habib will play Bilal Associates for the ultimate honors of Karachi Masters League season 2 at Naya Nazimabad Cricket Ground, Karachi.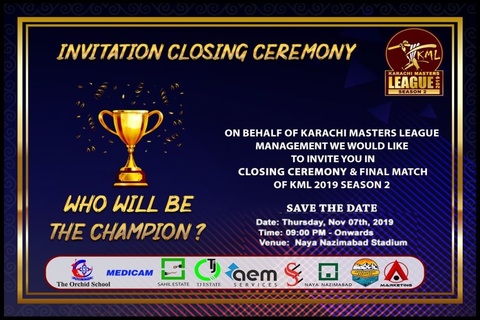 Karachi Masters Cricket League 2019
Naya Nazimabad Cricket Ground and IBA Cricket Ground
Final of "The Orchid School presents Karachi Masters League powered by Medicam" will be contested between Haseen Habib and Bilal Associates tonight at 7:00 P.M. at Naya Nazimabad Ground, Karachi.
Haseen Habib took care of business against Arsalan Iqbal CC by five wickets in the eliminator to qualify for the final. They would be hoping for a repeat performance by Amaan Nadeem in final as well who took 5 wicket for just 9 runs in the eliminator.
Bilal Associates got to the final by handing Butt Brothers a 59 runs drubbing in their eliminator. They would rely on Farhan Sadiq's expertise with the bat in the final game as he heads there having scored a match winning innings of 58 runs in the eliminator.