Pakistan shooters need financial boost
On the occasion of Pakistan Day, several sport shooters, a few of whom also happened be ladies, took part in the day-long Sindh Open Pistol and Rifle Shooting Competition held at the Arabian Sea Country Club Ltd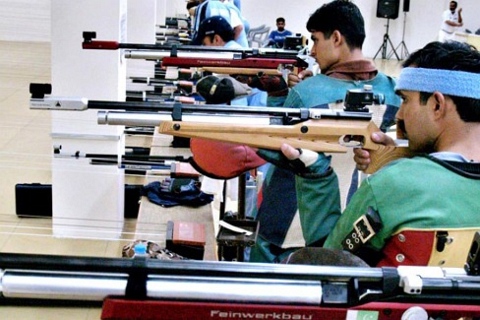 On the occasion of Pakistan Day, several sport shooters, a few of whom also happened be ladies, took part in the day-long Sindh Open Pistol and Rifle Shooting Competition held at the Arabian Sea Country Club Ltd on Wednesday.
The competition, following International Sport Shooting Federation (ISSF) and National Rifle Association Pakistan (NRAP) rules, was held in the following categories: Big bore pistol for professional category (M/W 25.M), Big bore pistol for new comers (M/W 15.M), Small bore pistol .22 for all (M/W/Juniors 25/50.M), Small bore .22 Rifle open sight/scope sight at prone position (M/W/Juniors 25/50.M).
Empty shells bounced off after shots and the air was pungent with the smell of burnt nitroglycerin and graphite as the shooters took aim at the big black targets set up for them up front. To help them concentrate better on their targets, some contestants wore a patch over one eye, some had attached side shields to their glasses while all wore ear muffs to cut out the sound. Some of them were even careful not to fire if the felt a strong gust of wind.
"Wind direction and the quality of the winds have to be taken into consideration when firing. There is wind which blows in waves, winds that move in a circular direction and so many other kinds that can make one miss the target," explained Razi Ahmed Khan, one of the organisers of the event.
Mr Razi, who has competed as well as coached teams for several international shooting competitions including the Olympics, Asian Games and South Asian Games, said that they were hoping to discover good shooters at the event.
"The top competitors from this event will be considered for the national camp as well as for other national and international events," he shared, while pointing out that age or gender didn't matter in shooting events because it has more to do with skill.
One couldn't help but notice a quiet middle-aged gentleman in one corner, who had taken part in almost all events in the 25 metres category. Whenever the results were called out he had the most perfect 10s.
"He's a well-known cardiothoracic surgeon. No wonder he has such a steady hand," commented Mr Razi.
Also among the contestants were three ladies. Sub inspector Shazia Rafique was from the Elite Police Training Centre, Razaqabad and 16-year-old Rabia Chaudhry and 12-year-old Fatima Chaudhry were sisters trained by their father Shabbir Ahmed Chaudhry, who was himself competing in the event.
Another contestant, Hamza Zahid Khan, from the Special Security Unit of Sindh Police and the International Defensive Pistol Association stressed on the importance of fire arms education and training.
"You have to make it a sport such as this to push the skill level of the shooters. People, especially civilians many of whom own licensed weapons, need to know how to handle their weapons," he pointed out.
"Yes, shooting is an Olympic sport. Actually it is one of the first Olympic sports. We have several good shooters in Pakistan who have done well at the recent South Asian Games, returning with 13 medals, but we can do better. Our association, NRAP, runs on a two million rupees budget whereas neighbouring India has a three billion rupees annual budget set aside for the sport," said Mr Razi. "You need to invest in sports to get results," he concluded.

(Source: Dawn News)