Rangers CC decimates Rizvia Sports in KCCA Zone-VII T-20 League Cricket Tournament 2019
Two splendid half-centuries from Rangers CC's side made Rizvia Sports fall by 149 runs in the 2019 KCCA Zone VII T-20 League Cricket Tournament which is being held at Annu Bhai Park Ground in Karachi.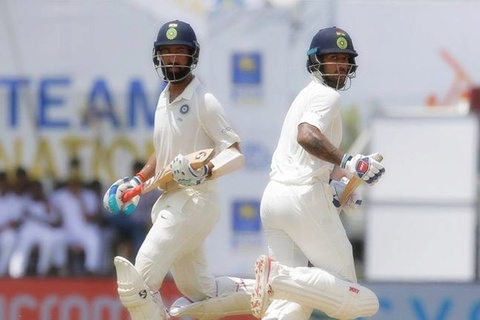 KCCA Zone-VII T-20 League Cricket Tournament 2019
Annu Bhai Park Ground
Openers Ahmed Hussain and Babar Malik excelled with splendid half-centuries to put Rangers Cricket Club in command against Rizvia Sports team that had to face the loss of the game by 149 runs on the second day of KCCA Zone-VII T-20 League Cricket Tournament 2019.
Meanwhile the other fixture was a complete contrast when Oriental Sports team sneaked to a dramatic one-wicket victory against Nazimabad Youngsters team.
Batting first, Rangers Cricket Club rode on the brilliant first-wicket partnership of 147 between Ahmed (67) and Babar (57) to amass 202-7. Off spinner, Nadir Ali grabbed four wickets for 40 runs before Rizvia Sports were shot out in 12 overs for a measly 55.
Off spinner, Jawad Ali captured 3-14 and Nasir Qureshi took 3- 23.
In the other encounter, Nazimabad Youngsters scored 124-9 with Ghazi Ghauri and Kashan Faheem both making 27 each. Off spinner, Mohammad Akhtar snared three wickets. Oriental Sports, in reply, reached the target in 17.3 overs thanks to Ahmed Ali's 40 unbeaten 25 from Zakir.
Match#01 Rangers CC beat Rizvia Sports by 149 runs
* RANGERS CC 202-7 in 20 overs (Ahmed Hussain 67, Babar Malik 55; Nadir Ali 4-40);
* RIZVIA SPORTS 55 in 12 overs (Nadir Ali 24; Jawwad Ali 3-14, Nasir Qureshi 3-23).
Match#02 Oriental Sports beat Nazimabad Youngsters by one wicket
* NAZIMABAD YOUNGSTERS 124-9 in 20 overs (Ghazi Ghauri 27, Kashan Faheem 27; Mohammad Akhtar 3-14, Mohammad Hussain 2-30);
* ORIENTAL SPORTS 125-9 in 17.3 overs (Ahmed Ali 40, Zakir 25; Ghazi Ghauri 2-19, Kashif Khan 2-24).