Rehman Foundation & SBP mark solid victories in Osaka Naya Nazimabad Ramzan Cricket Cup 2019
Rehman Foundation beat Santex Groups annd SBP defeated Alamgir Cricket Club in their latest fixtures of Osaka Naya Nazimabad Ramzan Cricket Cup 2019 which is being played at Naya Nazimabad cricket ground in Karachi.
Osaka Naya Nazimabad Ramzan Cricket Cup 2019
Lawai Cricket Stadium, Karachi
The 13th match of the tournament was played between Santex Groups and Rehman Foundation teams in which Santex Groups gave tough time to their opponent team players but their hard work stil did not earn them the victory of the game as they lost just by 5 runs.
Rehman Foundation team, upon winning the toss, decided to bat first and accumulated a total of 124 runs target on all of their players out by the end of 19.4 overs. Now he opponent team needed 125 runs to claim the win of the match.
Chasing the target well, Santex Groups players gave their all as their boys were seen with great momentum on the pitch but as the game proceeded, they kept losing their players one after the other and finally lost with their total of 119 runs on 9 outs as the 20 overs finished.
Manzor Khan from the winner team stood the Man of the Match.
SCORE CARD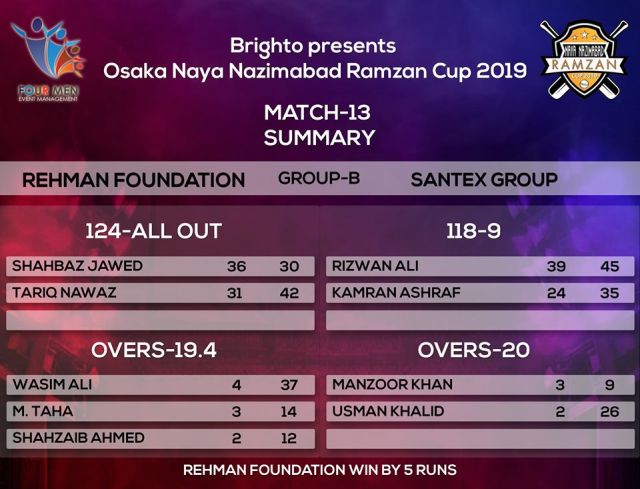 The second encounter was contested between State Bank of Pakistan (SBP) and Alamgir Cricket Club making it the 14th match of the tournament. SBP won by eight wickets.

After winning the toss and opted to bat first, Alamgir team was able to manage only 86 runs with all of the players out just by 16.4 overs. It was not much of a huge target for their opponent team to which they easily cruised to the victory by their final score of 87 runs with just 2 of the players out by 7.3 overs.
SBP's Usman Afridi was declared the Man of the Match.
SCORE CARD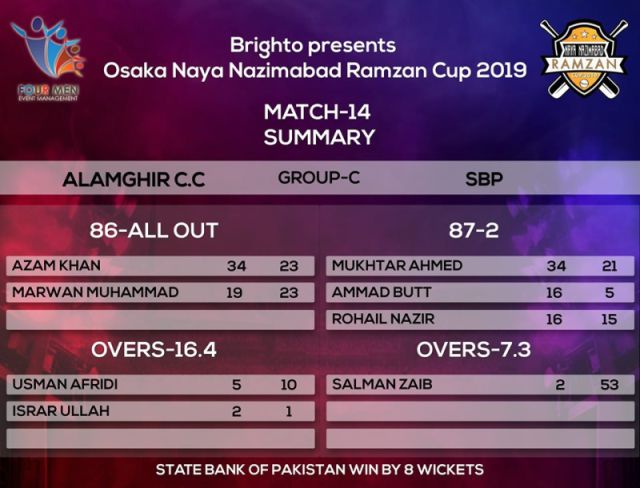 As many as 16 teams have lined up to compete in this mega cricket event which is having two matches scheduled daily during the league phase with the first match starting at 08:00 PM sharp and the other at 12:00 midnight. The quarters-finals are scheduled for 23rd and 24th May while the semi-finals will be staged on 25th May, followed by the final on 26th May.

The winner team will be awarded with Rs. 1.2 million worth of cash prize while the runner-up team will bag a prize pursue Rs. 600,000. The man-of-the-match of each game would get a motorbike.