WAPDA's duo of Ali Mehdi & Mahoor Shahzad capture 56th National Badminton C'ships Champions Titles
WAPDA's duo of Ali Mehdi and Mahoor Shahzad stole limelight by winning the men and ladies' singles titles at the 56th National Badminton Championships at Nishtar Park Sports Complex, Lahore.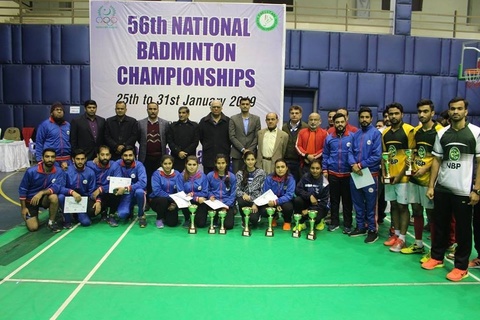 56th National Badminton Championships 2019
Nishtar Park Sports Complex Lahore
Following a 12-year-long wait, Ali Mehdi won his maiden crown in men's singles, while Mahoor Shehzad romped to her third successive title triumph in women's singles as the 56th National Badminton Championship at Nishtar Park Sports Complex, Lahore.
While Ali had to fight for supremacy against a spirited Murad Ali of National Bank of Pakistan (NBP) in a three-set battle before winning 21-13, 19-21, 21-19, Mahoor was disdained in brushing aside SNGPL's Ghazala Siddique in straight sets 21-5, 21-8.
In the men's doubles final, Atiq Chaudhry of Wapda pairing with NBP's Raja Hasnain were stretched before clinching the title against Awais Zahid (Wapda) and Raja Zulqarnain (NBP) 14-21, 21-16, 21-7.
In the men's singles clash both Ali Mehdi and Murad Ali fought fiercely for each and every point from the onset to the extent the that the battle could have gone either way.
"Before this I had to my credit four age-group titles. At the senior level I have reached semi-finals ten times," said the 26-year-old Ali, who lives in Karachi.
However, Ali Mehdi proved himself a better player under tense moments with his superior fitness as well won the crown after nearly an hour. After winning the first set quite easily, Ali Murad proved a different contender in the remaining two sets. He managed to level the score by winning the second set after both men were tied at 13-13 and then again at 15-15.
They were again all square at 19-all but from thereon Ali Mehdi took over to complete a grand victory in style.
In women's singles final, Mahoor crushed Ghazala Siddique of Sui Northern Gas Pipelines Limited (SNGPL) 21-5, 21-8.Mahoor said she felt a bit nervous in the start but then recovered. "I took control of the situation after some time and everything went well later," Mahoor told this correspondent.
"I was training for the Olympic qualifiers and that helped me a lot in this event. In the semi-final, I beat Sahar Akram of WAPDA 21-8, 21-5 and in the final I defeated Ghazala almost with the same score. So it seems that I have improved my game," said Karachi-born Mahoor.
Like the men's singles, the doubles' final was also a treat to watch. Atiq and Hasnain faltered in the first set but they recovered well to grab the title. The winning pair had lost the first set easily but they hit back to win the remaining sets to annex the title.
The women's title won by the pair of Saima Waqas (Wapda) and Ghazala Siddiqui (SNGPL) who defeated Sehra Akram and Huma Javed (Wapda) 21-17, 21-15.
The mixed doubles title went to Rizwan Azam and Sara Mohmand (NBP) who outplayed Awais Zahid and Sehra Akram (Wapda) 21-12, 21-14.