Pakistan defeat Hong Kong to reach final of 19th Asian Junior Team Squash Championship
Top seed Pakistan team remain on course for Title win with a comprehensive 2-0 win in the semi final over Hong Kong at 19th Asian Junior Team Championships 2019, Pattaya, Thailand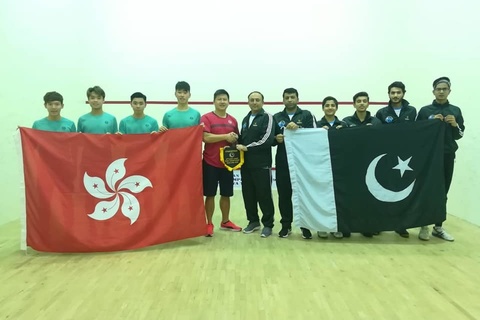 19th Asian Junior Squash Team Championship 2019
Ambassador City Jomtien Pattaya, Thailand
Undefeated Pakistan Team faced 4th seeded Hong Kong in the semi final of Boy's Team Event in Pattaya, Thailand.
With High hopes and prayers,Top performing Abbas Zeb faced Chung Yat Long of Hong Kong in the first match of the semi final which lasted only 25 minutes with Abbas comfortably dominating the opponent and winning it 3-0 with a score line of 11-5, 11-1 and 11-3.
The second match of the semi final witnessed some interesting twists and turns where Muhammad Farhan Hashmi of Pakistan was up against Hong Kong's To Wai Lok. At 1-5 down, Farhan was struck with a head injury in a collision as he was approaching for a pick in the right back corner. Despite a long injury timeout, Farhan could not fully recover and regain his concentration as he lost the opening game by 6-11. The second game saw a flip of game score as Farhan won it 11-6. Both the players gave in their best for a win in the crucial 3rd game. The players had to add some extra effort as the game got tied at 10-all. It was Farhan who got the lead in the tie-break and won it 13-11. The match once again level at 2-2 as Hong Kong won the fourth game 5-11. The fifth decider game of the hour long semi final match was fully contested by both players as the points were evenly matched throughout the game but it was Farhan's composed game which earned Pakistan the win by 11-9. The 1 hour 21 minutes long second semifinal match ended with a score line of 6-11 11-6 13-11 5-11 11-9
Pakistan will now face the winner of Malaysia Vs India semifinal. The final will be played tomorrow.