US$71,000 Golootlo Pakistan Open Squash Championship 2018 starts today
The 2018 Golootlo Pakistan Open Squash Championships will take place from 28th November to 2nd December 2018 at the Asif Nawaz Squash Complex, DA Creek Club,Karachi.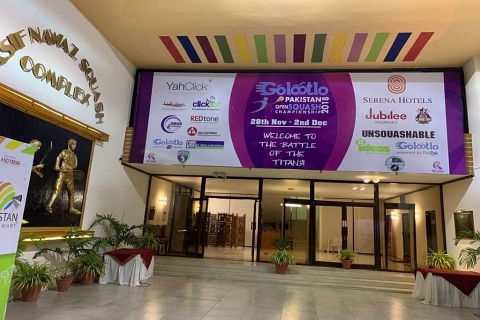 Golootlo Pakistan Open Squash Championship 2018
Karachi, Pakistan
It is for the first time in 13 years that Karachi, the city of lights, is ready to host the prestigious Pakistan Open Squash Championship for both men and women as some of the top players of the world compete in the battle of nerves which begins at the DA Creek Club courts, Karachi.
The event which is being held in the metropolis after a lapse of 13-years provides an opportunity to the followers of the game and youth to watch exciting matches among eminent players who are bracketed among top 50.
The city has a rich history of staging frequent high-profile events in the yesteryear when Pakistan used to dominate the top 10 rankings in the world.
The heavily-guarded venue is bustling with festivity since last one week, having already played host to the DHA Cup International Squash Championship, both for men and women, that served as a curtain-raiser for the Pakistan Open.
As many as 37 foreign and 11 Pakistani players belonging to 14 nations besides the hosts will compete in men and women events.
The foreign countries includes Egypt, England, Spain, France, Czech Republic, Mexico, Peru, Serbia, Qatar, Malaysia, Hong Kong, Japan, Iran and Kuwait.
Egyptians, meanwhile, who enjoy lion's share in the top eight seedings of the two categories also had the honour that top seeds Karim Abdel Gawad and Yathreb Adel belongs to the African nation.
The men's will compete for prize money of US $ 53,000 while the women's will vie for honours for US $ 18,000. The women's event has been added to the Pakistan Open first time.
The match between Kuwait's Ammar Altamimi and Egyptain Mostafa Asal will mark the formal opening of the event at 3:00pm.
Meanwhile, the Professional Squash Association (PSA) has revised the men's draw following withdrawal of fourth seed Mexican Cesar Salazar. However, his sibling Arturo Salazar, who is fifth seed, is competing.
According to organisers, all the foreign players who will compete in the event have reached in the city.
The top eight seeds men's who have been given first round bye are 1-Karim Abdel Gawad (Egypt), 2-Diego Elias (Peru), 3-Abdulla Mohd Al Tamimi (Qatar), 4-Nafi­izwan Adnan (Malaysia), 5-Arturo Salazar (Mexico), 6-Omar Abdel Meguid (Egypt), 7-Karim El Hammamy (Egypt), 8-Mohammed Reda (Egypt).
Similarly, the top eight women's who were directly through to the second round following a bye are 1-Yathreb Adel (Egypt), 2-Nadine Shahin (Egypt), 3-Zeina Mickawy (Egypt), 4-Liu Tsz Ling (Hong Kong), 5-Sivasangari Subramaniam (Mala­ysia), 6-Satomi Watanabe (Japan), 7-Rachel Arnold (Malaysia), 8-Tong Tsz-Wing (Hong Kong).
Today's(28th Nov) fixtures:
Matches starts at 12:00noon.
Asim Khan (Pakistan) vs Tayyab Aslam (Pakistan)
Mazen Gamal (Egypt) vs Mohd Syafiq Kamal (Malaysia)
Ahsan Ayaz (Pakistan) vs Ivan Yuen (Malaysia)
Auguste Dussourd (France) vs Shehab Essam (Egypt)
Ammar Altamimi (Kuwait vs Mostafa Asal (Egypt)
Iker Pajares Bernabeu (Spain) vs Noman Khan (Pakistan)
Baptiste Masotti (France) vs Edmon Lopez (Spain)
Joshua Masters (England) vs Ahmed Hosny (Egypt).
Amna Fayyaz (Pakistan) vs Jelena Dutina (Serbia)
Wen Li Lai (Malaysia) vs Anam Mustafa Aziz (Pakistan)
Noor-ul-Huda (Pakistan) vs Enora Villard (France)
Aika Azman (Malaysia) vs Sadia Gul (Pakistan)
Riffat Khan (Pakistan) vs Eva Fertekova (CzechRepublic)
Ooi Kah Yan (Malaysia) vs Arezoosadat Mousavizadeh (Iran)
Zoya Khalid (Pakistan) vs Madina Zafar (Pakistan)
Salma Youssef (Egypt) vs Farah Momen (Egypt)