Pakistan Navy wins National Shooting Championship
Navy retain the title by securing 20 gold, 14 silver and 11 bronze medals in the 25th National Shooting Championship final at the PN Shooting Range, Karachi.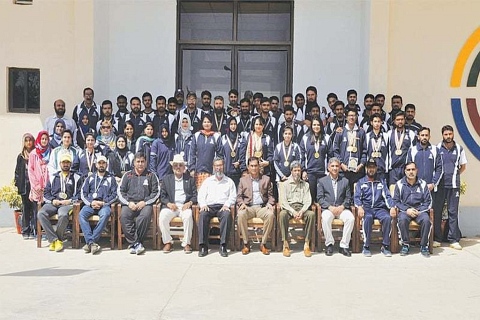 Pakistani Navy has organized the 25th edition of National Shooting Championship which the hosts have won after securing 20 gold, 14 silver and 11 bronze medals. Pakistan Army remained the runner-ups by picking up 12 gold, 17 silver and 10 bronze and Pakistan Air Force (PAF) grabbed third position collecting two gold and six silver medals.
A week long shooting games were organized by Pakistan Navy at the Pakistan Navy Shooting Range, Karsaz. Teams participated in the event were Army, Air Force, Punjab, Sindh, WAPDA, FRA and KPK and hosts Pakistan Navy.
Rear Admiral Commander Ather Mukhtar was the chief guest on the occasion and he distributed the prizes among the winners. Pakistan Navy's Gufran Adil earned the top position in the rifle event and he was named as "Best Shooter" of the championship.
The chief guest in his closing remarks has said that shooting as a sport is getting significant importance other then military circles at the national level as well.
Following is the medal table:
| | | | | |
| --- | --- | --- | --- | --- |
| Team | Gold | Silver | Bronze | Total |
| NAVY | 20 | 14 | 11 | 45 |
| ARMY | 12 | 17 | 10 | 39 |
| PAF | 02 | 00 | 06 | 08 |
| Punjab | 01 | 00 | 01 | 02 |
| Sindh | 00 | 02 | 00 | 02 |
| WAPDA | 00 | 02 | 06 | 08 |
| FRA | 00 | 00 | 01 | 01 |
| KPK | 00 | 00 | 00 | 00 |
| Total | 35 | 35 | 35 | 105 |