Quarterfinal line-up completes in Karachi Super League
Kemari Warriors won the last league match of inaugural Karachi Super League to complete the quarterfinals lineup.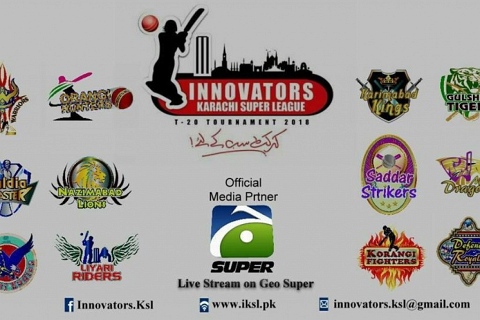 Innovators Karachi Super league - 2018
New Nazimabad Cricket Stadium
Four each teams from Pool A and B have qualified for the quarterfinals after playing five each matches.

From Pool A, Orangi Hunters tops the points table after winning 4 of 5 matches with 8 points while Lyari Riders secured the second spot with 6 points as they won 3 matches. Malir Dragon with 3 wins and 6 points stayed on third, Surjani Eagles with 2 wins and 4 points ended on the fourth position. Journey of Defence Royals and Saddar Strikers ended after the pool matches.

Gulshan Tigers earned the top spot with 8 points and 4 wins from Pool B. Kemari Warriors secured second with 6 points. Korangi Fighters got the third position with 6 points while Nazim after winning 2 matches ended on 4th position with 4 points. Two teams left out from the group stage are Baldia Blasters and Karimabad Kings.

First quarterfinal of the inaugural KSL will be played between Orangi Hunters and Nazimabad Lions at 4pm while Liyari Riders to take on Korangi Fighters in the second quarterfinal at 8am today.
POOL - A
| | | | | |
| --- | --- | --- | --- | --- |
| Teams | Played | Win | Loss | Points |
| Orangi HUNTERS | 5 | 4 | 1 | 8 |
| Lyari RIDERS | 5 | 3 | 2 | 6 |
| Malir DRAGONS | 5 | 3 | 2 | 6 |
| Surjani EAGLES | 5 | 2 | 3 | 4 |
| Defence ROYALS | 5 | 2 | 3 | 4 |
| Saddar STRIKERS | 5 | 1 | 4 | 2 |
POOL - B
| | | | | |
| --- | --- | --- | --- | --- |
| Teams | Played | Win | Loss | Points |
| Gulshan TIGERS | 5 | 4 | 1 | 8 |
| Kemari WARRIORS | 5 | 3 | 2 | 6 |
| Korangi FIGHTERS | 5 | 3 | 2 | 6 |
| Nazimabad LIONS | 5 | 2 | 3 | 4 |
| Baldia BLASTERS | 5 | 2 | 3 | 4 |
| Karimabad KINGS | 5 | 1 | 4 | 2 |