3rd Tour de Khunjreab 2021-International Cycling Race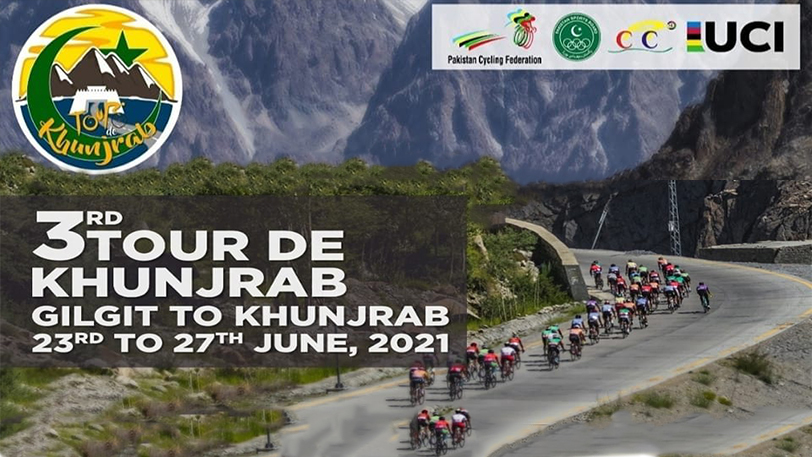 The third edition of Tour de Khunjerab Road Cycle Race 2021 — one of the world's highest altitude cycling competitions — slated to be held from 23rd-27th June.
President Paksitan Cycling Federation (PCF) Syed Azhar Ali Shah has stated that Gilgit-Baltistan government in collaboration with Pakistan Cycling Federation will organize this mega event to promote tourism in the region.
The race will held under strict observance of COVID-19 SOPs. He further informed that this time, female teams will also participate. The invitation has been sent to all affiliated units of Pakistan Cycling Federation and various renewed international cycling teams of Europe and Asia has also been issued.
Pakistan Cycling Federation General Secretary Syed Azhar Ali Shah told to Khilari.pk that they have sent invitations to 15 countries, while only Afghanistan has been confirmed their participation yet.
Tour De Khunjerab will start at an elevation of 4200ft and climb up all the way to Khunjerab at 15400ft, an ascent of more than 10,000ft from start to finish.
Tour de Khunjerab 2021 Schedule:
| Date | Event | Place | Distance | Remarks |
| --- | --- | --- | --- | --- |
| 19th June (Saturday) | Arrival of Teams in Islamabad | Islamabad | | All team officials & cyclists |
| 20th June (Sunday) | Departure from Islamabad for Gilgit | Islamabad | | All team officials & cyclists |
| 20th June (Sunday) | Arrival in Gilgit from Islamabad | Gilgit | | All team officials & cyclists |
| 21st & 22nd June (Mon & Tue) | Training around Gilgit | Gilgit | | All team cyclists |
| 22nd June (Tuesday) | Commissaries & Race officials meeting | Gilgit | | |
| 22nd June (Tuesday) | Cyclists, Team Managrs & Drivers Briefing | Gilgit | | Race Convoy Rules |
| 22nd June (Tuesday) | Team Manager Meeting | Gilgit | | License & Jersey Check. Race information Delivery |
| 22nd June (Tuesday) | Cycle ride in Gilgit | Gilgit | | All team officials & cyclists |
| 23rd June (Wednesday) | Men's Stage 1 | Gilgit-Ghulmat | 66 km | Grabd Depart from Gilgit |
| 24th June (Thurday) | Men's Stage 2 | Ghulmat-Eagle's | 35 km | Individual Time Trial (ITT) |
| 24th June (Thurday) | Women's Stage 1 | Ghulmat-Aliabad | 30km | Individual Time Trial (ITT) |
| 25th June (Friday) | Women's Stage 2 | Aliabad-Attabad | 30km | |
| 26th June (Saturday) | Women's Stage 3 | Attabad-Sost | 82km | |
| 27th June (Sunday) | Women's Stage 4 | Sost-Khunjrab | 75km | |
| 27th June (Sunday) | Closing & General Award Ceremony | Hunza | | |
| 28th June (Monday) | Departure from Gilgot to Islamabad | Hunza | | All team officials & cyclists |