Balochistan Chess Association to hold Defence Day Open Chess Tournament 2020
Balochistan Chess Association is organizing the Defence Day Open Chess Tournament 2020 on 6th September, 2020.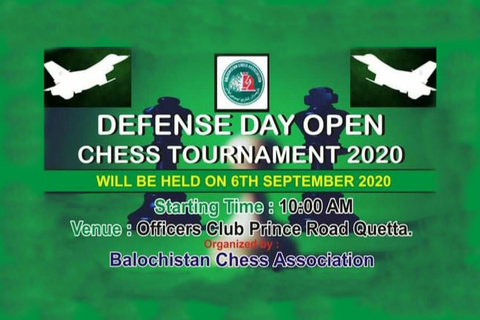 President of Balochistan Chess Association, Mr. Abdul Aziz Khan has announced that Balochistan Chess Association is going to organize mega chess event in the honor of Defence day of Pakistan, which has officially been named as Defence Day Open Chess Tournament 2020.
It is set to be held on 6th September at Officers Club Prince Road, Quetta.
The said championship would be played according to swiss league system with 6 rounds. The time control will be 20 minutes. Swiss perfect 98 pairing software shall be used.
Players can participate on the spot by submitting an entry fee before 10:00 am, 6th September.
The competitions will begin at 10:00 AM sharp.
Those who wish to try their luck at this event are to register at 033238071733, Mr. Muhammad Kamil Haidery, with an Entry fee of Rupees 200 only.