Mind cube Online Chess Tournament 2020 from 8th August
Mind cube is going to organize the "Online Chess Tournament " which is scheduled to be held on 8th-9th August.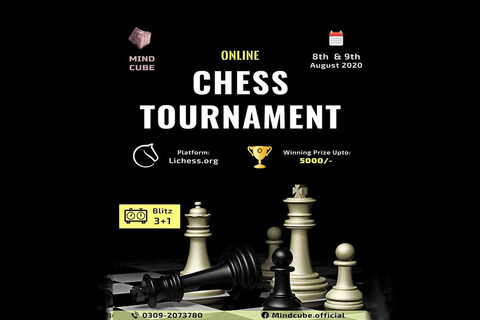 Mind cube brings back with another exciting chess competition which is named as "Online Chess Tournament ". Chess players from everywhere throughout Pakistan can partake in the competition.
The enchanting winning prize up to Rs.5000 will be awarded to participants.
The tournament is slated to be held on 8th(Saturday night) and 9th of August. Lichess.org will be used as a platform for the tournament.
For any query contact at 0309-2073780.
For registration visit the link below:
Rules and Regulations:
- You have to enter your original Lichess name during registration.
- If you don't have Lichess ID yet, you can create one for free by visiting Lichess.org and selecting the register button.
- Tournament link will be provided to the participants 4 Hours before the tournament starts.
- Winning prizes up to 5000/- will be awarded to the winners (depending on a number of registrations)
Tournament format will be arena tournament. ( A win has a base score of 2 points, a draw 1 point, and a loss is worth no points. At the beginning of the tournament, players are paired based on their rating)