"Pakistan can become champion if govt supports beach handball" says PHF President, Shafiq
Pakistan Handball Federation (PHF) President Mohammad Shafiq said that the country is capable of becoming world champion in beach handball if the state supports the sport.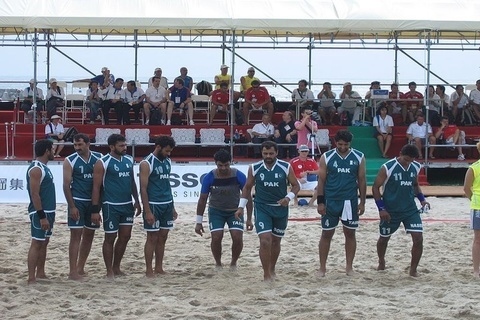 Pakistan Handball Federation (PHF) President Mohammad Shafiq said that the country is capable of becoming world champion in beach handball if the state supports the sport.
"We are quite capable of becoming world champion in beach handball if government starts supporting us," Shafiq said.
"In

2008

, Pakistan had beaten the 2004 world champions Egypt. They also defeated 2010 world champions Hungary and also overpowered two-time world beach championships runners-up Turkey," said Shafiq, also Secretary of Asian Handball Federation (AHF).
"But the biggest issue is financial. We need financial support from the state and we require infrastructure. There are no beach facilities in the country. Except for Faisalabad, where we have managed beach facilities, the rest of the country direly needs solid beach infrastructure where international beach handball events also could be organised," he said.
Shafiq suggested that excellent beach facilities could be managed at the Bagh Ibn-i-Qasim in Karachi.
"It does not mean that beach facilities can only be managed on a beachside but you can create beach facilities anywhere by putting sand there. Qatar has managed beach facilities inside the city by establishing sports complex. It has brought sand from Saudi Arabia," he said.
To a query, he said that developed nations could not be invited to Pakistan for an event because of lack of proper facilities. "We have never returned empty-handed from the Asian Beach Games," said Shafiq, also a treasurer of Pakistan Olympic Association (POA).
Pakistan won gold in the inaugural Asian Beach Games held in Indonesia in 2008. In the second edition in Muscat, the green-shirts remained runners-up, while in each of the subsequent three editions Pakistan claimed bronze.
The 2020 Asian Beach Games will be held in Sanya, China, in November-December. Despite the tough situation created due to COVID-19 pandemic, China had recently said that they would go for the Asian Beach Games to be held in November-December and the Games will not be postponed.
When asked if continental beach spectacle was not delayed then what is Pakistan's preparatory plan, Shafiq said they will hold camp after Ramadan.
"Our initial plan is to hold camp after Ramadan," he said. However, he was quick to add that so far it is not yet confirmed whether the edition would be conducted on time because of the coronavirus matter. He said Pakistan have a few young players, adding, he is hopeful that a solid unit will be prepared for the competition. "But again you know state support will be important," the official stressed.
Pakistan also have a solid standing in indoor handball in South Asian Games. In three editions, Pakistan have claimed two gold and one silver.
In 2010 SAG in Dhaka, Pakistan beat India 37-31 in the final, in 2016 India's SAG Pakistan finished as runners-up when they went 31-32 down to hosts India in the final. And in the 2019 SAG in Nepal, Pakistan got their second gold in Games history by ousting India 30-29 in the final.
Shafiq agreed that only Punjab has been producing handball stuff.
"It's a fact. Recently I have told KP Olympic Association's president Syed Aqil Shah that if KP can produce potential athletes in other games why it cannot do so in handball. Work will be needed in KP," he said.
"In Sindh, work is being done but you know this province is unable to produce solid stuff in power games. KP is much better in that," he said. Shafiq pledged that he would try his level best to popularise the games throughout Pakistan.