Mobile squash court is 'below par'
The all-weather, four-wall glass squash court purchased by the Pakistan Squash Federation (PSF) is of a low quality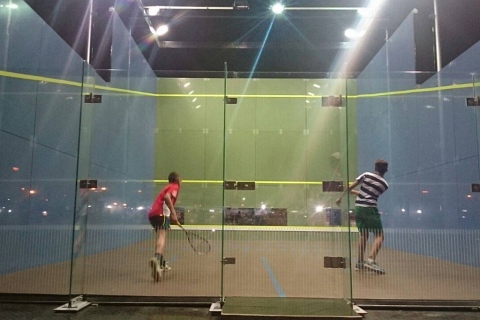 Pakistan vs Egypt Squash Series
PAF Museum Karachi
The all-weather, four-wall glass squash court purchased by the Pakistan Squash Federation (PSF) is of a low quality, sources told 'The News'.
The problems with the court were noticed during the recent series between Pakistan and Egypt.
The Egyptian players faced grip problems during their practice session on April 5 as the court was slippery due to dew since it did not have any cover on it.
The court was fine on the first day of the series, but on the second day it was very slippery, which made Egypt's Tarek Momen leave the court twice in the beginning of the match against Farhan Mehboob.
Tarek was reluctant to play since he already had his one foot twisted, but the management made some efforts to improve the situation and the match was completed without any mishap.
One of the Egyptian players told this scribe that there was something wrong with the court. "It was slippery and dangerous to play," said the player.
A referee told 'The News' that PSF had bought a very old court which was not suitable to play. "The PSF should not have bought it," he said.
Another referee said that the court's year of making was 1998.
It was also learnt that the mobile court which was donated by the ASB for the Asian Beach Games held in Thailand in November 2014 was bought by the PSF in December 2014 for over Rs12 million.
The court lay at Karachi port for about 16 months and perhaps this was the reason behind its poor condition, a source said.
But PSF secretary Amir Nawaz denied this. "No, the court isn't that old. The only reason was dew and we used a wooden floor instead of a glass floor to prevent injuries," he said.
He said they took the best possible measures for the event and the five-set match between Farhan and Tarek was a clear proof of it. "Tarek was actually scared as he had lost to Farhan twice in the past," added Amir.

(Source: The News)