Kabaddi World Cup 2020 Points Table: see where every team stand
Iran top Pool A as of now after securing 4 points while in Pool B, Australia are the table toppers with 4 points after winning two consecutive matches at Kabaddi World Cup 2020 which is being played at Punjab Stadium, Lahore.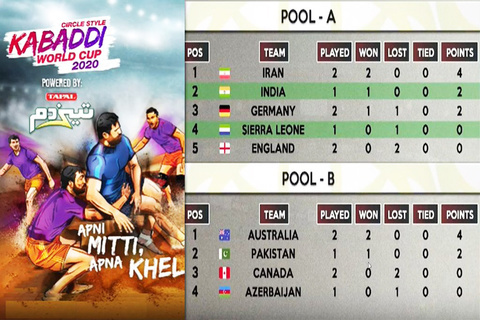 Kabaddi World Cup 2020
Punjab Stadium, Lahore | Iqbal Stadium, Faisalabad | Zahoor Elahi Stadium, Gujrat
The Circle Style Kabaddi World Cup 2020 is being played in Lahore and we have had a couple of interesting games where the favorite teams sealed expected victories. We already have some movement on the Kabaddi World Cup 2020 Points Table as Pakistan and Iran won their opening games of the tournament.
There are 9 teams participating who have have been divided into two groups. Iran, Germany, England, India, and Sierra Leone are placed in Group A while Pakistan, Azerbaijan, Australia, and Canada are placed in Group B.
After third day fixtures, Iran are the Pool A chat toppers as of now as they have secured 4 important points through dominant displays. The Defending champions India and Germany sit on the second and third places respectively with 2 points. Sierra Leone and England are placed 4th and 5th as they are yet to win any match.
Australia sit atop the Group B as they have secured 4 points by winning two consecutive matches. Pakistan is currently sitting on the 2nd spot after dominating Canada in the first game by a huge margin of 64-24. Azerbaijan and Canada are placed at the bottom after failing to win their encounters.
Let's have a look at all the details on Kabaddi World Cup 2020 Team Standing after Day-3: