Egypt edge Pakistan 3-2
Egypt won the $40,000 bilateral series 3-2 against Pakistan here at PAF Museum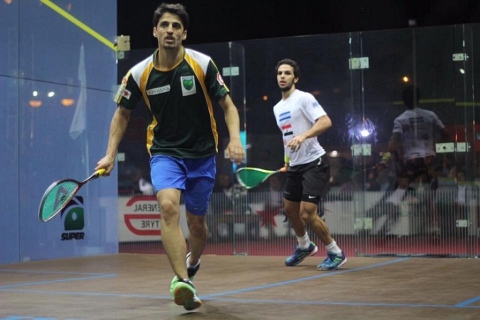 Pakistan vs Egypt Squash Series
PAF Museum Karachi
Egypt won the $40,000 bilateral series 3-2 against Pakistan here at PAF Museum on Thursday.
With 2-1 lead in hand, Egypt's World No 10 Tarek Momin started the day against World No 118 Farhan Mehboob and won the match after a tough battle of five sets. Tarek won 11-13, 11-8, 8-11, 4-11, 11-6.
There was a scuffle between the players and Tarek during the match complained that Farhan was blocking him.
"He plays, he blocks, he is high and that's problem for me," said Tarek.
In the last set, Farhan hit the ball on Tarek's ankle which halted the match for a while and Tarek left the court.
The refereeing was poor during the match.
The court was slippery, which created problem for the Egyptians in both the matches.
"Tarek is regularly playing international events while I am out of circuit, and since ours was deciding match Tarek played his best," said Farhan Mehboob after the match. "He played well. We need more international events to get confidence by playing against such high-ranked players," he added.
In the second match of the day, World No 22 M Abouleghar lost to World No 63 Farhan Zaman 1-11, 11-5, 7-11, 4-11.
"I didn't think of his high ranking. I didn't take pressure and that helped me win," said Farhan Zaman after the match.
Addressing the closing ceremony, Pakistan Squash Federation (PSF) president Sohail Aman said it was heartening to see the comeback of squash. "The spirit that the players showed in this series is remarkable," he added.
Sohail said he saw a new dawn for Pakistan squash through this series. "Our players will get maximum support from Pakistan Air Force. We cherish Egyptian players' visit here and hope they will come back again soon," added Sohail.
PSF senior vice president Razi Nawab said this series showed to the world that Pakistan is safe for international sports. "We will continue with such events. We will hold much bigger events in future," said Razi.