Egyptian squash stars feel safe in Pakistan
Five top-ranked squash players from Egypt have said their presence in Karachi proves the city is safe for international events.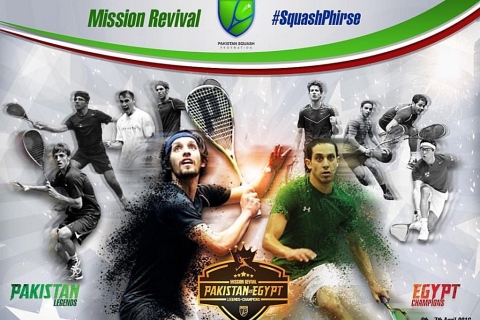 Pakistan vs Egypt Squash Series
PAF Museum Karachi
Five top-ranked squash players from Egypt have said their presence in Karachi proves the city is safe for international events.

"I don't see any reason why Pakistan cannot hold high prize big events like $50,000 or above," said World No 8 Karim Abdel Gawad told 'The News'. "Pakistan has all the facilities, finances and environment for such big events," he said.
All five Egyptian players reached Karachi on Tuesday morning to participate in the $40,000 bilateral series at PAF Museum on Wednesday (today) and Thursday (tomorrow) at a portable glass court.
"I have come here for the second time in five months. It gives me pleasure to be here again, to become part of a great initiative of revival of squash in Pakistan," Karim added.
"I am playing against Tayyab Aslam. I have never seen him play, but he is number two in Pakistan. He must be talented," said Karim, adding that he would like to meet former world champion Jansher Khan as he could not see him in his last visit.
World No 10 Tarek Momen said this was his first visit to Pakistan and he was playing against Farhan Mehbub. "Farhan is a tough competitor; he has beaten me twice in the past, so it'd be a good match," said Tarek.
He said the series would promote squash in Pakistan and improve the image of the country.
Tarek said hopefully Pakistan would get to host PSA-50 or big events in the future. "Currently Pakistan is hosting only PSA-25 or below events in which I don't play," added Tarek.
World No 11 Ali Farag, visiting Pakistan for the first time, said: "I am very excited to be part of this series," added Ali.
Ali said it would be a pleasure for him to get tips from legendary squash player Jansher Khan. "I am playing against Asim Khan. I heard he is a talented player. I am ready for the challenge," said Ali.
World No 20 Mazen Hesham, who is visiting Karachi for the second time and is playing against US-based Shahjahan Khan, said: "Shahjahan has shown good progress recently so this is going to be a good match," said Mazen.
World No 22 Mohamed Abouelghar is visiting Pakistan for the second time as he participated in a PSA-25 event held in Islamabad last year.
"I am playing against Farhan Zaman. We are of the same age group. I am looking forward to win against him," said Abouelghar.
Manager of Egyptian team Jahanzeb said he organised exhibition matches between Karim and Mazen in December last as part of his long-term plans of reviving squash in Pakistan. "This is the second attempt and we are happy that we are successfully holding this," said Jahanzeb.
He added that in the third step they would organise a similar series against international players in collaboration with Pakistan Squash Federation (PSF). "Hosting top players of squash in Karachi is really amazing and proves that Karachi is safe for international activities," he added.

(Source: The News)